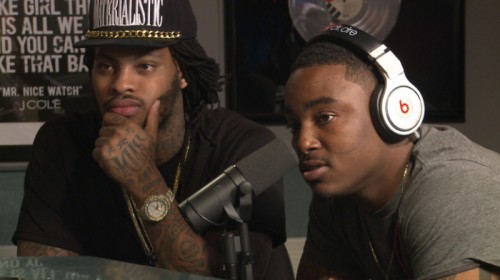 Joey Fatt's Chipper Jones 3 mixtape just dropped (and it's dope!) and now he's talking about his new boss and the relationship they have, as well as his friendship with A$AP Rocky.
Asked about the public reception to his signing with Waka, the Long Beach emcee/producer said, "if you don't fuck with it you a bitch ass nigga, off top."

"Any nigga who saying they don't fuck with Waka in my Insta DM, Insta comment is some nigga who ain't never seen the streets and some nigga who don't come from the shit we come from," he added. "Everybody who know where we come from, who represents the streets is all for it because it's two genuine dudes. Two dudes who trying to make a change just for their people and doing it the right way, not over here doing no foo-foo shit, fucking people over."

Fatts, who is the cousin of rapper Vince Staples, also spoke about his label-boss' industry lessons.

"He's smart as fuck," he said of Waka Flocka Flame. "He country as hell. You probably don't think he know how to talk 'cause he so country but that nigga smarter than a motherfucker. He put me up on a lot of shit, just the game. You just gotta watch everything. Everything is a business. Just work the system. He telling me, bro. I'm getting money and I ain't drop no project. I'm over here with $400 Jordans on right now, everything A.P.C. right now, blue Gucci belt. No project out. My man Waka, teaching me how to work the game, we finessing right now."

Late in the interview, Fatts also detailed his production work for A$AP Rocky, Action Bronson, and more.

"I got a lot of records with him," he said of A$AP Rocky. "We're really used to working with each other. I'm like his go-to producer…So, yeah, I got like a lot of records on his project and on his instrumental project too that he's dropping pretty soon. He's probably gon' drop the instrumental before his actual album. I produced a lot of records on there too. We just working man. I'm on Bronson's new album. Aston Matthews' next project is probably gon' be produced by me entirely if I have the time. I'm gonna make the time for it. It's just when it's gonna come out because…I'm probably gon' end up going on tour with [Waka]. That's about it though. I don't really hand out the sound to many people. That's the thing Rocky taught me early coming up."
You can peep the rest here.
© 2014, @quinelleholder. All rights reserved.