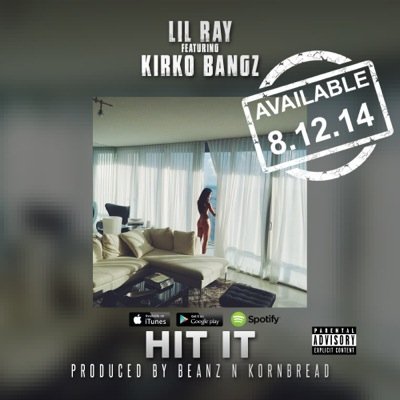 Houston audiences have long been entertained with the unique lyrics of Lil Ray and Kirko Bangz. Now the two Texas talents have teamed to bring their audiences a smooth and electrifying sound, with the soon to be released single – "Hit It".
"Hit It" is the brain child of Lil Ray, and pairing his lyrics with the smooth rhythmic tone of Kirko Bangz is a combination destined to propel this single to the top of the charts.
The duo employed a "no-holds barred" approach on the production of "Hit It", collaborating with a pair of the hottest hip hop producers in the industry, the expertise of Beanz N Kornbread , out of Houston, can be easily perceived by the ear throughout this opulent production. "Hit It" has been described by many as "Pure Hotness". A tentative release date of August 12th has been set for "Hit It". The single will be available by visiting www.itslilraypeople.com and digitally at iTunes, Spotify and Google Play.
https://twitter.com/itsLilRaypeople
https://www.facebook.com/ItsLilRayPeople
https://www.youtube.com/user/ItsLilRayPeople
https://soundcloud.com/itslilraypeople
http://www.itslilraypeople.com
© 2014, Eldorado2452. All rights reserved.