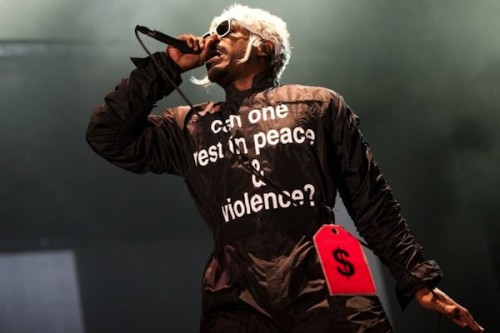 During the Outkast Reunion tour #ATLast that was held in their hometown over the summer, we got to see 3 Stack in many "interesting" jumpsuits that had different phrases on each of them. 3000 has partnered with Savannah College of Art & Design for i feel ya which is an art exhibit that will be held in Miami, FL from December 3rd-14th. Take notice below to the summary of the event taken from the official website:
i feel ya: SCAD + André 3000 Benjamin" explores fashion, film and painting through the eyes of three dynamic artists: multihyphenate performer André 3000 Benjamin, filmmaker Greg Brunkalla and painter Jimmy O'Neal.

Custom jumpsuits, designed by Benjamin for a worldwide tour celebrating 20 years of Outkast history, are exhibited alongside an experimental film directed by Brunkalla and large-scale abstract paintings by O'Neal.

"i feel ya" provokes a socially dynamic conversation about language and context.

This event is free and open to the public.
Check out photos of all of the jumpsuits worn by André 3000 here, courtesy of pigeons and planes.
© 2014, Niyah Nel. All rights reserved.