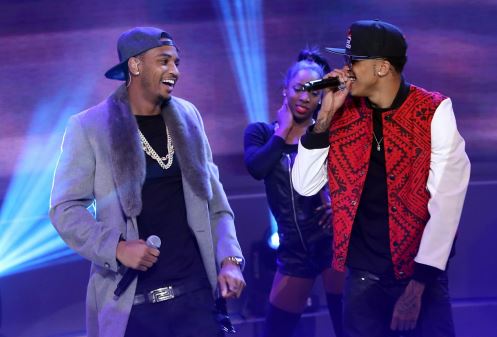 Earlier this month, Rap-Up TV caught up with August Alsina and the singer revealed that he and Trey Songz no longer fucked with each other. Over the weekend, August stopped by the Philly Morning Show with Shamara and Laiya chopped it up with the Def Jam signee about his fued with Songz.
Listen to the interview below.
On the topic of Trey Songz because there was a similar sound and feeling and people even say there is a resemblance that there should be a little more respect for Trey?

Fuck No
You were recently in VA, who were you referring to when you posted on Instagram "I'm in VA n—got the bus movin all thru da hood. Yo hood LOL"
First of all I was doing an interview and I heard something that I didn't like. I don't have a problem with no body. The word "beef" we not goin do that [be]cause nigga die when nigga beef. My nigga always say 'you are better off fighting AIDS or Cancer before you beef with me and my nigga' and that's just what it is. I be playing it cool with nigga but when you tell someone something to try and take away from my money and that's [how] I feed my family then it becomes personal. Like don't call the radio station and tell nobody 'please don't let him do an interview because blah blah'. I would never do that to the next man because this how we feed our family. I don't be on no petty shit like that man but if that's what you really want then you need to come see me and make sure I don't get in that muthafucka
Who said that?
That's nigga said it, I don't got to say no names you know what this here.
Shoutout to DJ Enuff.
© 2014, miixtapechiick. All rights reserved.