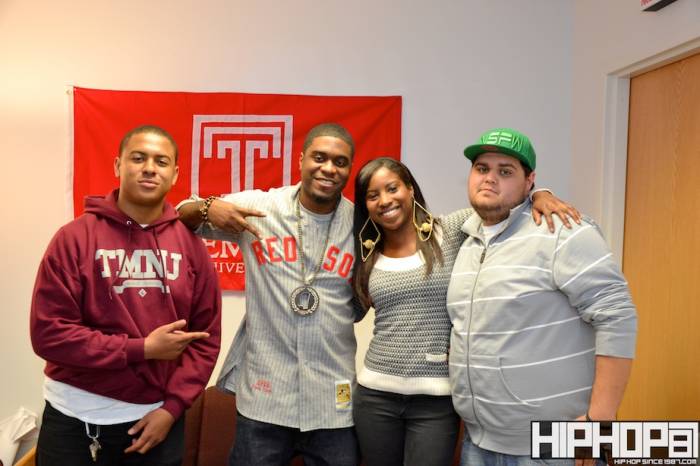 Check out Kevin Nottingham's own Justin Ivey's new interview with Big K.R.I.T. below. During the interview the pair discusses Krit's forthcoming project Cadillactica, paying homage to legends and more!
Source: http://www.kevinnottingham.com/2014/02/17/big-k-r-i-t-talks-cadillactica-paying-homage-to-legends-and-how-k-r-i-t-wuz-here-was-almost-his-farewell-project/
Justin: How did the latest tour go for you?

KRIT: The tour's been love with Macklemore and Talib [Kweli]. To be out on the road and perform in front of – even me opening – 3000-4000 people… some of them that may be familiar with the music, some not, and to get the kind of response that I've been getting and gaining them fans, it's always beautiful. Then to be inspired by a legend like Talib Kweli perform and seeing Macklemore & Ryan Lewis kill it every night, just seeing how intricate their show is and how much they put into it. That's inspiring to me. It started on October 22nd and I performed in some places that I never thought I would perform: three times in the Theater at Madison Square Garden, all that shit. We've been in some arenas!

Justin: You're preparing your next album Cadillactica…

KRIT: Yeah, Cadillactica.

Justin: And one of the big things you revealed was that you'd just be rapping.

KRIT: Yeah, just gonna be an artist.

Justin: Tell me about the dynamic there and how things change for you.

KRIT: I will say that I'm still gonna produce on the album, but I'm not gonna produce all of it. I saw that I produced all my projects up until Live From The Underground. I was doing all the beats, all the mixing, writing the hooks and things of that nature. This time I wanted to see what it was like working with other producers and to get in the studio with people I respected like Terrace Martin, DJ Dahi, Jim Jonsin [and]9th Wonder. I felt like for the first time, I got the chance to just be an artist. They played the best beat they made for a nigga and I go in and write. It's like being free from a lot of the pressure I normally go through when you gotta make the beat, write the hook and it's been love man. I'm still gonna produce the majority of the album. I don't want people to get too scared. [laughs] I mean, I had to get out of my comfort zone so that creatively I could grow.

Justin: Another project that's been discussed is Country Cousins with Yelawolf and we don't really know the status on that one right now. Is that still on the table?

KRIT: Man, we gonna figure it out. Me and the homie Yelawolf always seem to tour a lot and work a lot. A lot of it is a timing thing, and so lord willing if it happens, it's going down. And if it don't, we're gonna figure out how to make it happen later on in life.

Justin: One of the cool things you were involved in recently was the Crooked Lettaz tribute track "Fire Water II"with Big Sant and Tito Lopez. What was it like being involved in that and honoring such a historic song in Mississippi Hip Hop?

KRIT: It was crazy. It was Big Sant's idea cause it went on The Great American Mattress Sale project and he asked me to be a part of it along with Tito Lopez. With all three of us being from Mississippi, we really got to show to what we grew up listening to and where we came from. We got to pay homage to David Banner, Kamikaze and Crooked Lettaz. And for the new generation that didn't know about them, hopefully they hear our version and go back and listen to the original. Cause that's what it's all about, letting people know what inspired us and how we grew up.

Justin: I know I got to talk with Kamikaze and he was very excited about that.

KRIT: Yeah, it came out super jamming! That beat is phenomenal.

Justin: Grey Skies is one of my favorite albums, so I was glad to see y'all do that. Now speaking of legends, I interviewed 8Ball last year and he was very intrigued by the idea of you producing an 8Ball & MJG album.

KRIT: That's one of those things that's on my list of milestones to do – to be able to produce an 8Ball & MJG album, a UGK album and to be a part of an OutKast album. I look forward to and would love to do that. It's a blessing that I've, except for Andre 3000, been able to work with everyone I just mentioned. It's one thing to have somebody featured on your record, but it's another to produce for them. Not necessarily be singing or rapping on their song, but to give them a track. All these artists, I love them and grew up listening to them and study them as well. You know, it would just be me trying to tap into the '90s and what it was like to make a Comin' Out Hard or In My Lifetime and try to create from that perspective.

Justin: Like you said, you're definitely a student of the game and a lot of your music pays homage to those that have come before you. Why is that so important to you to make sure that legacy lives on in the new generation?

KRIT: Because I feel like I'm pulling my weight as a Southern artist and being country, but I want people to understand that I'm not the first "lyrical" dude from South. There's been so many people before me and I'm just really trying to pave my way and represent to the best of my ability. But like I said, you got the UGK, OutKast, Goodie Mob, the whole Dungeon Family, Three 6 Mafia, Project Pat, Scarface, Trick Daddy… there's mad lyrical people that came from the South. Sometimes in the interviews, people ask how's it feel to be from the South and be lyrical, and I'm like it's always been like that though.

Justin: Right!

KRIT: We just told it from our perspective. UGK is from a small city like I'm from, but they made it cool to be country and Southern. When I see a slab or some 84's and somebody pop trunk with neon lights, I been knowing about that shit forever. So, to see the whole world on it now is exciting because to me they're finally starting to get the culture.

Justin: Absolutely. Now I want to go back to your beginnings a bit. You started out with the See Me On Top series of mixtapes and I want to get into your mindset back then. What was Big K.R.I.T. looking to do when he dropped the first See Me On Top tape?

KRIT: Man, get signed! All the tapes I dropped up until Return of 4eva was to get signed. It was not about dropping an album, not going platinum, not going gold, not selling. It was just getting signed and that was very hard thing to do where I'm from. And I didn't know anybody in my circle that was signed back then. That was that step: getting a label to pay attention. Not even getting a song on the radio cause at some point I was like if I can just get an A&R, then I can get on the radio. But yeah, when I was dropping those projects it was simply to get signed bro; to get enough attention that someone would invest in me and put my music out on a level where music people could hear.

Justin: Now you had the See Me On Top tapes as well as ones like The Last King, but the breakout project was obviously K.R.I.T. Wuz Here. What do you think was different about that project and could you see as you were making it that it would be something special?

KRIT: K.R.I.T. Wuz Here was me getting to a point where I didn't know if I wanted to rap anymore. I couldn't take care of myself financially. I would have meetings with A&R's and I'd play them a record like"Children Of The World" and they'd say that's not want people want to hear right now. "Hometown Hero" and "Country Shit" I did in 2009, around that time, and we put them out in 2010. But they were older records that a lot of people heard and said that ain't gonna work. So K.R.I.T. Wuz Here was more of me on some last hurrah, I just want people to hear this music and what I got to say. Whether it work out or not, I did my best and go back to Mississippi to take care of myself.

Justin: Let's talk about Live From The Underground, your first album for Def Jam. Many fans commented that you had given them too much good music for free leading up to the album, so they weren't as impressed as they thought they would be. I know I wrote a very positive review of it and remember seeing a lot of opinions, from both fans and critics, that it just "felt like another one" and didn't have the same impact as the previous projects. What was your feeling on that? Do you think that you maybe did give people too much before LP?

KRIT: I think the thing that I dealt with [on Live From The Underground] was when you're doing mixtapes and they're free, you can sample what you want. You can do whatever you want, include however many songs you want, sequence it how you want and then you just drop it. It's that mentality when you work on a mixtape. But when you go to an album, you can't drop it whenever you want, you can't sample anything you want [and] you can't sequence it however you want. It's gotta fit in a different way and be packaged a certain way for people and I dealt with that. I think that was the difference between my album and my mixtapes because I was fighting just wanting to let people hear it versus having a game plan, a deadline, a roll out and all these things that happen when you're dropping an album.

And I know that now so the second album is more like, instead of dropping a mixtape a month before I drop my album, I'm just gonna focus on this album. I'm still gonna give people music. I'm gonna be a part of the game cause I produce for people and collaborate with people. But my album, I want to focus all my attention on it so that I make something that makes you feel like "I've never heard anything sonically like this." And that's why I chose the name Cadillactica. It's like, why would you name it that? Because I want to create a planet around my music! Sounds don't sound the same, that's the difference. And just going back to what people know me for and that's creativity. 4Eva N A Day is probably one of my most creative projects to date because it's time sequenced, which is very hard to do. So yeah, I'm excited.

Justin: That's great. Is there any interesting work coming up that might surprise fans or maybe collaborating with someone out of left-field?

KRIT: Damn man, anything coming up… I'm gonna be a part of the Lupe [Fiasco] album. I'm on Luda'salbum. Got stuff with my podnas Mookie Jones and Smoke DZA too. It's gonna be a big year for all my family. And for me, it's just about branding Multi, being the best producer in the game and being the type of producer that I know I can go work with anybody. That's the next step.

Justin: I can't get out of here without this question.

KRIT: Let's go! [laughs]

Justin: The Alumni album: is it ever gonna happen?

KRIT: Yeah, it's gonna happen! But for me it's about dropping my album, [Big] Sant dropping another tape and then us going to do that. We're both solo artists outside of being a group, so it's very important that we brand that and then bring it together. That way neither one of us is depending on a group project, it's just something we did because of the time.

Justin: Alright man, thanks for taking the time.

KRIT: No doubt, I appreciate it.
© 2014, @quinelleholder. All rights reserved.