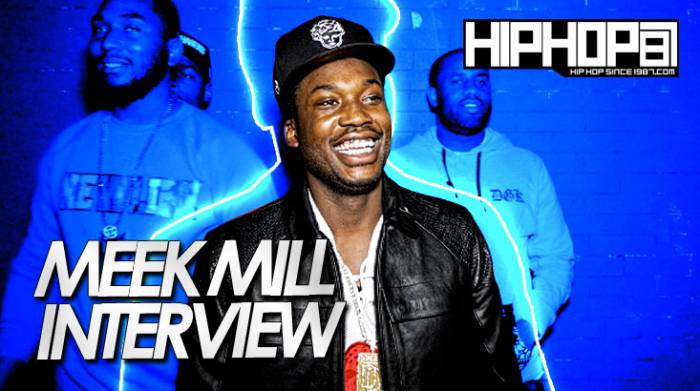 Meek Mill, née Robert Williams, honed his craft in Philadelphia's tough streets and made a name by displaying an explosive yet calculated approach to emceeing in a time when Philly's murder rate was high and competition was abundant. Of the crop of young rappers active in the era in which he came of age, Meek is the lone contributor to make a significant, lasting impact. Whether it was video footage that damaged their credibility and brand, lengthy jail stints, their inability to transfer battle rap and freestyle ability into viable song making, general missed opportunities and flawed execution, or some mixture of any of the above, the impact of  his peers gradually began to fade has he gained momentum: putting together well received mixtapes, making regional hits, eventually catching the eye of Rick Ross, and taking his knack for hard hitting beats, brash delivery, and catchy choruses to the big leagues.
Surrounded by his Dreamchasers cohorts and HHS1987's cameras on a drizzly early spring evening in his old stomping grounds, Meek shrugs off questions about his forthcoming sophomore album, Dreams Worth More Than Money, and who he may or may not be working with on the LP. While he has the attention of his hometown's most trusted and reliable internet-based Hip-Hop outlet, Meek would rather clear the air on more pressing topics: being accepted by Hip-Hop legends, being unfairly singled out by Philadelphia's police department, and his desire to use his success to motivate others.
Along the way he will shed light on other subjects at the forefront of his psyche: the way an associate who was being groomed to be a key player in his organization mishandled a testy situation ("Louie V: there's no way you shoulda been there when the cops was there doing an interview […] I'm not coming at him, though. Me and Louis V gonna do shit; we gon' do shit after this"), unnamed detractors ("Don't act like it's nothing new when we get the money […] before this niggas never loved us"), and his relationship with various contemporaries in Philadelphia ("I'm always gonna [alley] oop niggas from Philly, no matter if it's Spade[-O] or it's Young Chris or it's anybody. Whoever I fuck with that's alright with me and ain't on no hating shit, I'm a give you the oop").
From the onset it is clear that he's irritated by the notion that he is a target of the police. His recent failed lawsuit against the Philly PD for an alleged unlawful arrest that may have subsequently cost him millions of dollars in endorsements is testament to that ("I been hearing, 'The cops got Meek Mill on a list.' Here's what I don't understand […] I pay taxes […] I donate; leave the nigga alone that donate"). It's hard to disagree with his view on the subject: he keeps a relatively low profile and since his rise to superstardom hasn't had any notable run-ins with the law.
He still keeps his ear to the Philly streets ("Feek Pusha DM'd me today, 'Listen to my new shit, tell me what you think,' Alright, Ima listen to your new shit. It don't matter if [a rapper's] on this level…") and while he may have not yet heard something outside of his camp that he can completely cosign, you get the sense that Meek would welcome help in carrying the weight of his city's hopes ("I wanna see some other young niggas beat the streets. I don't wanna be the only nigga that beat the streets. I want somebody to pull up on me how Dame Dash did Ace [in 'Paid In Full'] and talk shit. I don't just wanna be the only one in no Phantom").
When questioned about his association with some of Hip-Hop's most revered elder statesmen, Meek simply attributes it to being genuine and reflecting the same characteristics as his predecessors ("Ima tell you man: I been on jets with Hov, I done been busting bottles with Baby, on missions with Puff; they just respect the young niggas they see them[selves] in when they were younger").  Tak, a Dreamchasers crew member who has begun to carve out his own lane due to his knack for quotable rants on songs, elaborates further about his team's connection with Hip-Hop's old guard, "It's so many suckers nowadays, [that] they happy to see some young real niggas come through. So that's why you see them with us," he chimes in, to the agreement and approval of the rest of the crew. "They was waiting for some real young niggas to come through 'cause the game is saturated with suckers. So when some real niggas come through other real niggas gravitate towards them […] real niggas back in style."
Before stepping off to allow his team to field HHS1987's questions about their own projects and endeavors, Meek touches on his Instagram account and how the flashy photos of private jets, jewelry, and expensive cars are an attempt to not only encourage his fans but shift the perspective of what being 'gangsta' is in this era ("It's easy to pull a trigger, but it ain't easy to move your mom out the hood. That's a real man job. That ain't for suckers"). Along with his admonishment to young listeners that "rich is gangsta", Meek takes time distinguish between boasting and encouraging. "We call it 'For Motivational Use Only' now," he says of the pictures. "If you [are] a hater: unfollow me."
Check out parts one and two of the interview below, check back for the remainder of the interview tomorrow and be on the lookout for more exclusive content that you can only find here on HHS1987.com
© 2014, Dessy Weegar. All rights reserved.