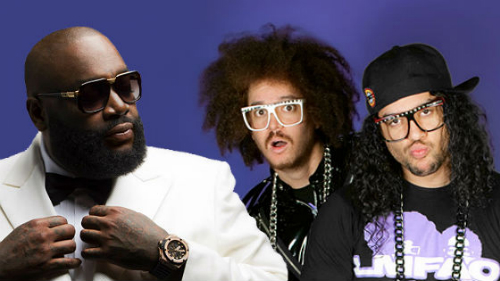 Rick Ross has filed a lawsuit against LMFAO for copyright infringement. The duo released a huge hit in 2010 titled, "Party Rock Anthem." Part of the chart-topper uses the lyrics, "Everyday I'm shufflin'." Back in 2006 Rick Ross released a single titled "Hustlin'" in which he uses the lyrics, "Everyday I'm hustlin'." Although the word 'hustlin' was replaced by 'shufflin,' Rozay feels like the similarities are undeniable especially because LMFAO's delivery sounds almost identical to his. According to the lawsuit the use of the phrase "constitutes, inter alia, the creation of an unauthorized derivative work." Jermaine Jackson, who co-composed "Hustin'" has also filed an injunction against LMFAO for an undisclosed amount.
LMFAO has since filed legal documentation stating that they did use Ross' lyrics but they did it fairly. They also took some shots at the MMG boss because of his pre-rapper career as a corrections officer. "Party Rock Anthem" went on to sell 7.5 million copies to date, has been used in countless ads, movies, shows, video games, and has inspired LMFAO's Party Rock Clothing line items.
Listen to both tracks below and judge for yourself while we wait for the issue to play out legally.
Rick Ross' "Hustlin'"

LMFAO's "Party Rock Anthem"

© 2014, Julie Aly. All rights reserved.