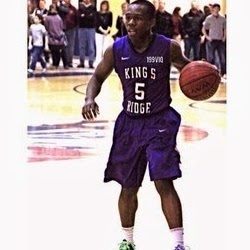 If you grew up listening to 50 Cent, then you probably feel like you watched his son Marquis grow up. Since seeing him as a kid in the "Wanksta" video, you'd be amazed at his growth, literally.
Standing at 5'9, Marquise averaged 19 points and 4 rebounds for King Ridge outside of Atlanta. Like many other seniors looking for a D1 scholarship, Jackson attended the National Prep showcase to show off his skills.
Don't believe me, Marquise got game, just watch. Check out his hoop mixtape below

© 2014, Mehka King. All rights reserved.