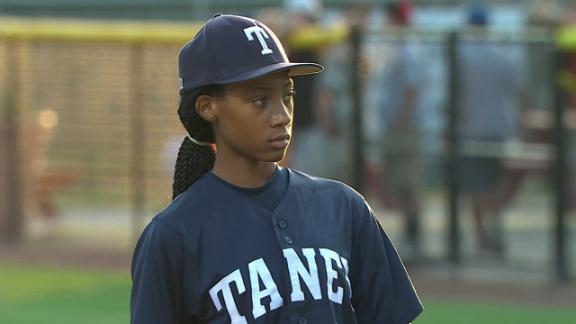 The young lady whose 70mph fastballs were stealing the show during the Little League regional championships has made her debut in the Little League World Series. 13 year old pitcher Mo'Ne Davis has led her Philadelphia little league team, the Taney Dragons to Willamsport, PA for a chance to bring home the trophy. Not only are the Dragons the first Philadelphia little league team to make it to the World Series, Mo'Ne is also making history become just the 18th young lady to play in the tournament.
Despite Mo'Ne's dream to play basketball for the Connecticut Huskies in a few years, Mo'Ne has display her passion for baseball, her leadership skills and overall she is showing young lady around the world they woman have and always will belong in sports. Mo'Ne Davis' Pennsylvania team won 4-0 today against Nashville. Mo'Ne finished the game with eight strikeouts.
© 2014, Eldorado2452. All rights reserved.