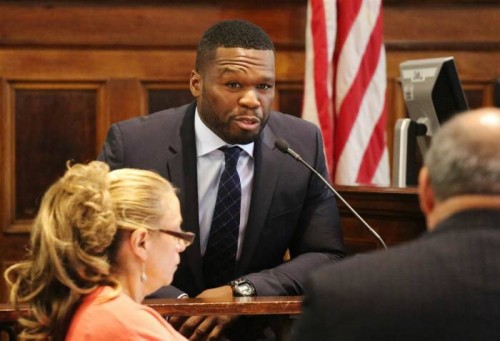 Curtis literally JUST coughed up $5 million to Lastonia Leviston, one of the mother's of Rick Ross's children, for intentionally publishing a sex tape she was involved in to the internet. Now, G-G-G-G-G-G-unit's CEO is in deep for another couple of millions.
The New York Daily News explains that the jury added another $2 Million towards the settlement, which now makes the grand total in damages $7 Million. Yikes.
Rumors have ben circulating that the main man behind Starz hit series "Power" filed for bankruptcy, obviously raising questions as to how long is paper REALLY is.
People are saying that he now allegedly filed for bankruptcy to keep from having to pay more into the settlement, but as the stories goes,, What goes up must soon eventually come back down. It's karma baby. The court's intake went a little something like this..
As for Fitty's testimony on Tuesday, where he said his hip-hop lifestyle is all a mirage, Rodriguez said, "It sucked."

"I don't think he was taking it seriously," she said. "He was winking at one of us, and then he just ran out of the courtroom. That wasn't necessary."

She didn't think he seemed apologetic at all for humiliating Leviston when he put her tape online for millions to see.

"He was funny, which wasn't working at all for someone who has hurt someone else," Rodriguez said.

"He has it. He's 50 Cent. You know he has more than 50 cents," said another juror, Sylvia Rodriguez.

"I don't think he's broke. If anything, he has it hidden," she said.
50's lawyers are filing for a reduction in settlement even though that'll probably be a waste of gwala. In the words of Lastonia Leviston,
I've been served justice by the courts and vindicated by God.
© 2015, Niyah Nel. All rights reserved.