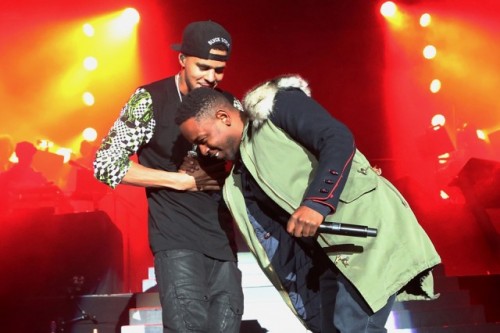 J. Cole recently had an interview with Saint Heron to discuss his latest visual for the 2015 Forest Hill Drive feature, G.O.M.D.. During their conversation, we come to understand that Cole actually had the slave-inspired video concept mapped out for quite a while, & it was to be featured on his previous release Born Sinner for his record Chaining Day, but that never happened.
You know, honestly, it's a video idea I had on my last album for a song called 'Chaining Day.' I always wanted to do that video," he said. "I had that video idea in my head for like two years or so, and like, I always wanted to make that statement, because it comments on so much. So the video idea was honestly already there before the song was ever made.
Cole refers to the video for G.O.M.D. as "commentary on the need for unity and togetherness," & opens up about the inspiration being taken from August Wilson's play The Piano Lesson–the introduction to the song samples a part taken from the piece. In further talks he begins comparing his video & its symbolism to Kendrick Lamar's revolutionary new LP, To Pimp A Butterfly, which they discussed amongst one another at a time before, we learn.
We do have conversations when we get together about the same shit that we're talking about and rapping about. Everything that I'm revealing on my album, I was telling him. Like, 'Yo this is what I figured out. I see this shit like this. I might not even be doing this shit no more because I see this,'" he said. "You know, I'm telling him all this. Even with his album, I haven't been able to dive all the way in his joint, but I know that there's a moment where he's calling for unity no matter the gang color.
To Pimp A Butterfly is probably one of the most genuinely crafted albums that this generation will witness. J. Cole went on record to say that he believes Kendrick Lamar is able to be of influence to a movement through his music that can bring gang violence to an end.
I'm just explaining to him, like yo, I feel like you can do it. You have the respect of that neighborhood and L.A. on another level. If anybody can come through and put an end to this shit, it gotta be you," he said. "The thing is, music is powerful, but I don't know how powerful it is. I don't know what it can actually do, but I respect him for speaking on it. That nigga's an amazing artist from top to bottom.
Music DOES have the power to change. Our pioneers have taken on the task before.
Read the full interview here.
© 2015, Niyah Nel. All rights reserved.