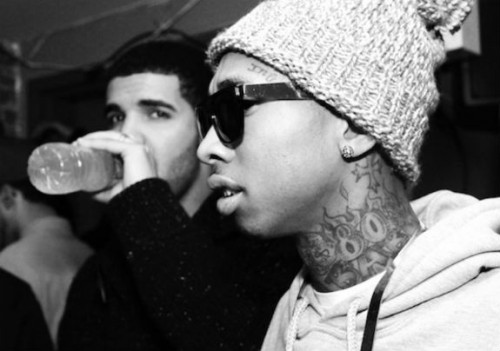 There's no secret that current label-mates, Tyga and Drake, have minimal use for each other. Tyga said some pretty slick things to Vibe magazine about Drake in October when he stated "I don't like Drake as a person. He's just fake to me. I like his music; you know what I'm saying? I think his music is good, but we're all different people."
Shortly after that Drake hit his "Mr. Steal Your Girl" ways and began liking Blac Chyna's pictures on Instagram before she put up a seductive picture with Drake lyrics as a caption and tagged the rapper. Drizzy also posted a picture of him and Tyga's girlfriend, Kylie Jenner, on his own Instagram page. T-Raww then took a few jabs at Drake on "Make It Work' by rapping, "niggas wanna take it there, we can take it there," before adding, "why these niggas wanna test me on the low though?" and "nigga never was my homie, all these bitches know you're corny." He also enlisted Drake's ex to join him in the video.
Yesterday with the release of, If You're Reading This It's Too Late, Drake throw a jab Tyga's way on "6pm In New York. "I heard a lil homie talking reckless in Vibe / Quite a platform you chose, you shoulda kept in inside / Oh you tried, it's so childish calling my name on the world stage / You need to act your age and not your girl's age." It's obvious that Drake was referring Tyga's statements to the magazine and his relationship with 17-year-old, Kylie Jenner. Ouch.
Tyga caught wind of the lyrics and tweeted, "Drake u still a bitch. All that sneak dissing is weak. Just pull up. I know where u live and you know my address..U been ducking the fade from Brown." The tweet has since been removed, but not before HHNM could screenshot it.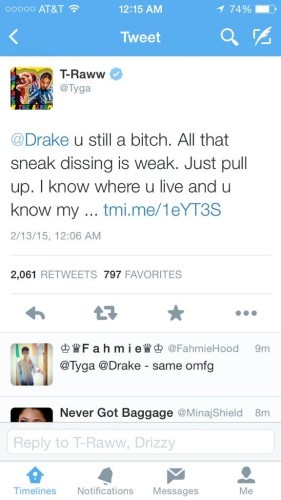 © 2015, Julie Aly. All rights reserved.