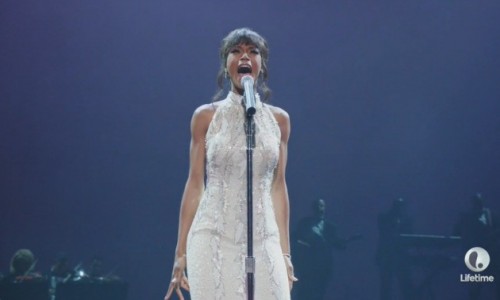 Even though Lifetime didn't get the approval they were looking for as far as ratings are concerned with their Aaliyah biopic, they've redeemed themselves with their Whitney Houston movie; the film scored the network Gold ratings during its premiere.
I'm sure we all were expecting something different while watching, but the film was more about the love life between Whitney Houston & Bobby Brown than her actual career. Nevertheless, it earned LTM 4.5 million viewers total, making it the most watched movie on Lifetime since the remake of Flowers In The Attic.
After the biopic went off, a Bobby Brown special titled Bobby Brown: Remembering Whitney was aired & raked in 91% (4.1 million) of the standing viewers that watched the biopic. The special consisted of an exclusive interview with the My Prerogative singer who shed light on what life was like being married to Whitney Houston. Brown claimed that he wasn't the only one stepping out on their marriage, Whitney had skeletons in her closet as well.
There was infidelity in the marriage on both of our parts. That's hard to swallow for both of us. I just think when two people that love each other as much as we loved each other–when they start drifting apart, different people come into the situation, into the scenario, and we make mistakes. People make mistakes; we're human.
The Whitney Houston marathon continued as we got another special following the Bobby Brown interview, this time with long-time mentor & record executive Clive Davis. Davis hosted Whitney Houston Live: Her Greatest Performances which grossed 3.2 million total viewers, making that 11.8 viewers for the entire evening for Lifetime Movie Network. It's safe to safe Lifetime had an extremely successful night all thanks to the life of Whitney Houston.
Even through all the success raked in from basing the life of Whitney Houston, the network faced much scrutiny, more so from her family. Houston's sister-in-law, Pat Houston, released a letter with her strong feelings enclosed prior to the debut of the flick.
If you watch this movie, watch it knowing that Lifetime is notorious for making bad biopics of deceased celebrities and brace yourself for the worst.
I bet LTM is used to this by now..
The Urban Daily
© 2015, Niyah Nel. All rights reserved.