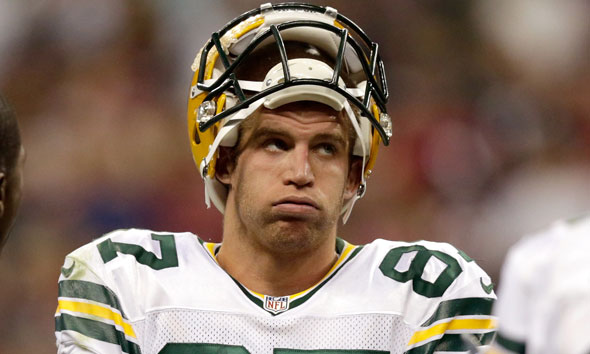 Why does the NFL play preseason games again? Now think of the answer you determined and then ask yourself our those moments worth losing one of your top 5 players for the season. That is now the problem the Green Bay Packers are facing. During a preseason exhibition game between the Green Bay Packers and Pittsburgh Steelers, Packers pro bowl wide receiver Jordy Nelson suffered a torn ACL on a non-contact play and we be out for the season.
According to the Milwaukee Journal Sentinel,
Green Bay — Receiver Jordy Nelson spoke to the media Tuesday some 48 hours after suffering a torn ACL that ended his season. Here are some of Nelson's comments:

(On what happened) "I've never experienced it. I honestly thought there'd be more pain than what there was. When they told me, I was shocked and obviously disappointed."

(On what he says to teammates) "I wasn't in the frame of mind to speak the other day. But they know. Like Mike said today, the goal hasn't changed. We have great depth, we have a great team here. They'll be able to go out and do what they need to do, so we're going to need some young guys to step up. Obviously, it will be a great opportunity for them to do that. It will be fun to watch them do it."

(On what the injury felt like) "Not much to be honest with you. That's why I just ran off the field, didn't think it was anything serious and obviously I was told different."

(On how he's dealing with it) "I'm good. After probably the first day, like I said the shock of it. Like I said it wasn't — I think it might have been different if I had got hit in the knee and would have really been able to understand why it happened. But watching the play multiple times, not truly understanding what caused it, but it's part of the body and things happen. But once I've gotten over that, seeing everyone and talking to them and what not, I'm ready to move on. I'm ready to get after it. Obviously we've got a process to get things ready before surgery, and after that we'll get after it. The good thing is we've got a whole year before I need to do anything, so we won't be in any issue of rushing it back, trying to push it to make it back in whatever months. We've got a whole year to make sure we're ready to go next year."

(On how it happened) "It was when I landed. Originally I thought I landed right leg first, but obviously watching it, it was left leg and then right leg, which even is more baffling to me why it happened. So, yeah, it's one of those things. I've always honestly thought besides contact injury, I mean if you're going to tear your ACL, you're going to tear your ACL. I've seen guys tear ACLs with a knee brace on, and some of those are supposedly guaranteed to prevent you. Like I said, it is what it is, we're ready to move on, I'm not going to go in detail with what it is, but we're in a good situation. For it being what it is, and look forward to moving forward, and hopefully everyone can move forward and leave these guys alone about it so we can all can just get ready for this season and move on."

(On the idea of exhibition games being meaningless) "I think it's just unfortunate. To some it might be a meaningless game, and I'm not disagreeing with what Aaron's saying, but there's a lot of guys in this locker room that need these games, especially now. There are some young guys in our group that need these last two games to get prepared, get ready, get a feel for the game. To some, yes, we don't necessarily need to be out there. For others, this is their opportunity to make a team. If it's our team or another team, so there is meaning to these games. I mean, it's part of it. It happens, it's part of the game. I've been blessed to play 18 years of football and not have anything like this. It's part of it, we'll deal with it and move forward and hopefully come back better."
Stay tuned to HHS1987 for all your NFL news.
© 2015, Eldorado2452. All rights reserved.