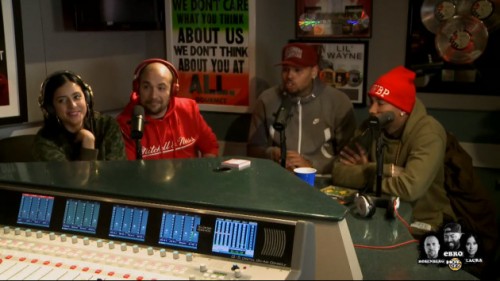 Continuing to promote their 'Between The Sheets' tour & their joint LP, Fan Of A Fan: The Album, Tyga & Chris Brown make their way to Hot 97's Ebro In The Morning to sit down with Laura Stylez, Peter Rosenburg, and Old Man Ebro himself.
During the interview, the AM crew asks Tyga about Kylie and denying their alleged relationship, Chris Brown finally not being in controversy, not being cool with Drake, Tyga's relationship with Cash Money & YMCMB, Peta coming for Breezy & Karreuche, their new album, and much more.
Chris Brown on The Grammys:
The Grammy is f*cking bullsh*t. I'm that great that I don't need to vote for myself. So many people are scared to say something. I kinda give it to Kanye [West] cause say what you want. I think it should be a different form of how they judge.
Chris Brown on Drake dropping his surprise mixtape, If You're Reading This It's Too Late:
Yeah that's cool, forget him though. We talking about Beyonce. But that's copying what you saw from the success you saw from somebody else.
Tyga on Cash Money:
I learned a lot being around [Lil] Wayne, but I started realizing the business wasn't right. I would ask him [Chris] questions because I didn't know. It got to the point where I had to speak how I feel. Then, when I started speaking up, people start coming at me like I was crazy. You see the situation with Wayne right now and now people are like 'damn, you was right.
Tyga on getting out of his YMCMB deal:
I was supposed to be out the deal. They agreed to a number to let me out the deal. I was going to pay them a few million dollars to get out the deal. Even though they owed me money, I was going to pay them because I'm not petty. I just want to move on with my life and continue to build. I don't know what happened, everybody went M.I.A.
© 2015, miixtapechiick. All rights reserved.