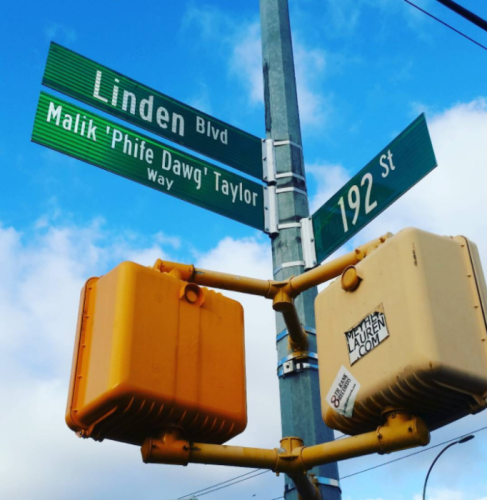 In March, we lost a legend to the rap game, Phife Dawg and many are still in mourning of his passing. Almost without hesitation, it was announced in August that there would be a street named after the A Tribe Called Quest member on the intersection of Linden Blvd. and 192nd St. in Queens where the group grew up. The cross section got it's name changed to Malik "Phife Dawg" Taylor Way this past Saturday, in front of Phife Dawg's family, group members Q-Tip and Jarobi and loads of fans.
Jarobi had this to say this at the event:
I see some of my dudes who I've actually logged mad hours with on this corner, in front of this store. It's a dope thing. Like people get murals and tributes to them all over the place, but to have a mural on the very block, the very street that we walked every day? Wrote rhymes up and down this block, battle people, have people come from other neighborhoods to battle me and Phife—you know, all kinds of stuff. [via Pitchfork]
Watch the ceremony and unveiling below. RIP Phife Dawg
© 2016, Oktane. All rights reserved.