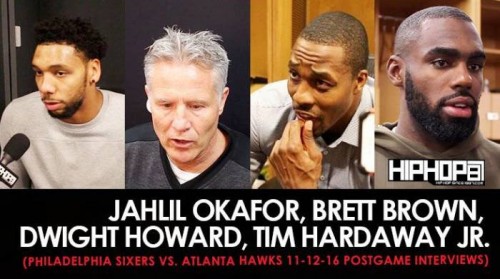 Almost a month into the 2016-17 NBA season, it appears that the 2016-17 Atlanta Hawks could be something special. On Saturday night (11-12-16), the Atlanta Hawks Hawks moved on to a record on (7-2) after defeating the Philadelphia Sixers. Following the game, we caught up with a few on the players and coaches on both sides to hear their post game remarks.
For the Philadelphia Sixers, head coach Brett Brown spoke on the strong effort his team gave but how being short handed ultimately became key.Playing their second game of a back to back, Brett Brown spoke on the Sixers first win of the year against the Pacers and what the team will look like moving forward. Coach Brown spoke on the success of the Atlanta Hawks and the addition of Dwight Howard. We also spoke with Sixers star Jahlil Okafor who played very well scoring 18 points and 6 rebounds. Jahlil Okafor elaborated that he didn't want to speak on his personal success, he was looking forward to his team learning from the loss collectively and moving forward to facing the Houston Rockets.
For the Atlanta Hawks, Dwight Howard continues to be a force in the paint picking up his league leading seventh double-double with 10 points and 11 rebounds. Howard spoke on the Hawks team success and the team standing at (7-2). Tim Hardaway Jr. who was effective from behind the three point line scoring 20 points spoke on his play off the bench. Hardaway Jr has been very effective off the bench over the last 6 games for the Hawks, he spoke on his success early on in the season. The Atlanta Hawks are back in action on Tuesday night (11-15-16) in Miami against the Miami Heat. Stay tuned to HHS1987 for more NBA news. Follow @eldorado2452 on Twitter and Instagram for all your Atlanta Hawks, NBA and sports news.
Follow on Twitter/Instagram:
@ATLHawks
@Eldorado2452
@HipHopSince1987
@DannyDigitall
© 2016, Eldorado2452. All rights reserved.