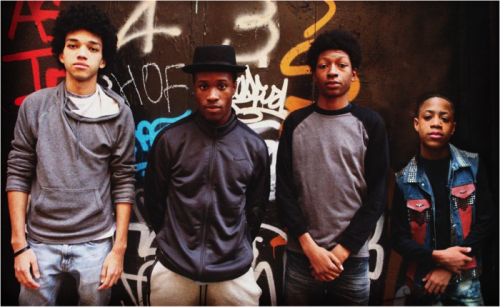 Since announcing a "Hip-Hop History of the Bronx" TV series would be coming to Netflix back in January, hip-hop heads everywhere have been eagerly awaiting its arrival and further details.
Netflix recruited Nas and Baz Luhrmann to tell the story of the rise of hip-hop during the late 70s in the South Bronx. 'The Get Down' will be a musical drama series starring Shameik Moore and Justice Smith, with original music from Nas and the legendary Grandmaster Flash.

For those of you wondering about the name next to Nas', Baz Luhrmann is an extremely well respected film director and writer behind Moulin Rouge!, The Great Gatsby (2013), and Romeo + Juliet. In a recent press release, Vice President of original content at Netflix Cindy Holland spoke of Boz and his team's ability to take worlds we may not recognize and infuse them with relatable characters and dreams. "We are thrilled to support Baz, Catherine (Martin) and Paul (Watters) and their team in their quest to illuminate those same dreams through the artists who came of age in the cauldron of the Bronx in the 1970s" said Holland.
'The Get Down' has all the making of a must see series, and will also star Jaden Smith, Jimmy Smits, and Giancarlo Esposito. The first season will be available to binge on August 12 via Netflix. Read the official synopsis below:
The one-hour, 13-episode drama from Sony Pictures Television will focus on 1970s New York City – broken down and beaten up, violent, cash strapped — dying. Consigned to rubble, a rag-tag crew of South Bronx teenagers are nothings and nobodies with no one to shelter them – except each other, armed only with verbal games, improvised dance steps, some magic markers and spray cans. From Bronxtenements, to the SoHo art scene; from CBGBs to Studio 54 and even the glass towers of the just-built World Trade Center, The Get Down is a mythic saga of how New York at the brink of bankruptcy gave birth to hip-hop, punk and disco — told through the lives and music of the South Bronx kids who changed the city, and the world…forever.
Written by Brad Johnson
© 2016, @BWyche. All rights reserved.