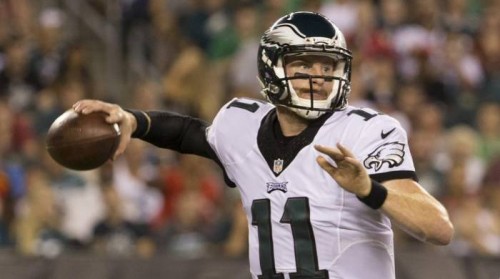 A new era is beginning in Philadelphia. On Saturday morning, the Philadelphia Eagles traded now former quarterback Sam Bradford to the Minnesota Vikings clearing the way for a new day in Philly. The time for Eagles first round pick Carson Wentz to prove he was the worth selecting with the second overall pick. The Philadelphia Eagles have named rookie QB Carson Wentz their week one starter as the Eagles face the Cleveland Browns.
According to ESPN,
The Philadelphia Eagles will start No. 2 overall pick Carson Wentz, not veteran Chase Daniel, against the visiting Cleveland Browns in Week 1, coach Doug Pederson announced Monday.

On Saturday, the Eagles traded incumbent starter Sam Bradford to the Minnesota Vikings, opening the door for Wentz to step in.

"This is what I believe in," Pederson said. "This is what this organization believes in. … I'm very comfortable with our football team and Carson being our starter."

It is a significant departure, however, from the original philosophical approach that the organization espoused when it came to their rookie quarterback. Management stressed the importance of allowing him to develop behind the scenes as he made the jump from North Dakota State of the FCS to the NFL. The plan was to have Bradford as the starter and Daniel as the backup while likely keeping Wentz inactive on game days, perhaps for the entire season.
What do you think of the Eagles new move? Does Carson Wentz have what it takes to lead the Eagles to the promise land? Check me out talking about Carson Wentz starting for the Eagles during my #SidelineStories segment on the Fresh Out the Waffle Iron Show on Be100radio. Stay tuned to HHS1987 for all your new music. Follow @eldorado2452 on Twitter and Instagram for all your music and entertainment news.
© 2016, Eldorado2452. All rights reserved.