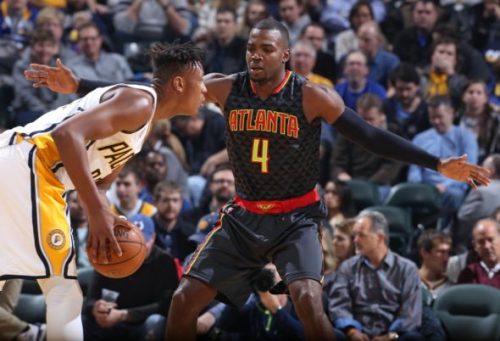 Atlanta Hawks all-star forward Paul Millsap has been named to the NBA's All-Defensive Second team after a stellar 2015-16 NBA season.
Millsap, an All-Star each of the last three years, averaged 17.1 points, 9.0 rebounds, 3.3 assists, 1.8 steals and 1.7 blocks in 32.7 minutes this season (.470 FG%, .757 FT%), ranking eighth in the NBA in bpg, 11th in spg, t16th in rpg, 22nd in FTM (309), 33rd in ppg and t39th in FG%. Millsap was the only player in the league to rank in the top 15 in both bpg and spg, and set single-season career highs in blocks (139) and steals (147).
Millsap became the sixth player in NBA history (nine times total) to record at least 1300 points, 700 rebounds, 250 assists, 125 steals and 125 blocks in a single season, joining Kevin Garnett (the last to do it in 1997-98), Karl Malone, Hakeem Olajuwon, David Robinson and Charles Barkley. He scored in double figures 75 times, including 29 20-point efforts. Millsap also ranked t17th in the league in double-doubles with 32. He was named the NBA's Eastern Conference Player of the Week on April 11.
As a team, Atlanta led the NBA in opponent FG% (.432), while ranking third in spg (9.1), fifth in bpg (5.9), sixth in fewest points allowed (99.2) and sixth in opponent 3FG% (.338). The Hawks were fifth in the league in forcing turnovers (16.1) and fourth in points off turnovers (18.5).
Millsap is the first Hawk to earn NBA All-Defensive honors since Josh Smith, who made the second team in 2009-10. Follow @eldorado2452 for all your Atlanta Hawks and sports news.
© 2016, Eldorado2452. All rights reserved.