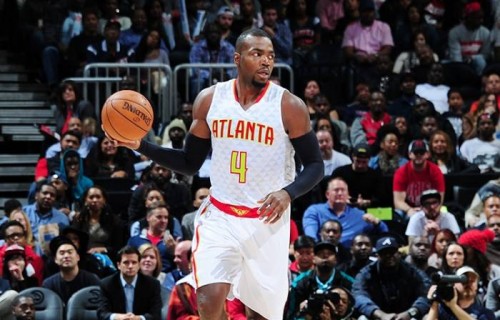 Paul Millsap today was named NBA Eastern Conference Player of the Week for games played from Monday, Apr. 4 through Sunday, Apr. 10.
In winning the honor for the second time in his career, Millsap led the Hawks to a perfect 3-0 week (home wins over Phoenix, Toronto and Boston), averaging 19.0 points, 15.7 rebounds, 4.3 assists, 4.3 blocks and 2.0 steals (.488 FG%, .462 3FG%, .786 FT%). He recorded a double-double in all three games and has a streak of four straight double-doubles overall. Including the three-game winning streak, Atlanta has won 17-of-21 dating back to Feb. 26.
Millsap led the NBA last week in rebounds per game, total blocks (13), blocks per game, total defensive rebounds (39) and defensive rebounds per game (13.0), while ranking second in the league in total rebounds (47) and tied for second in double-doubles.
In the Apr. 9 contest vs. Boston, Millsap had 31 points, 16 rebounds, five blocks, three assists and two steals (13-22 FGs, 5-7 3FGs), becoming the first player in NBA history to tally at least 30 points, 15 boards, five blocks and five 3FGM in the same game.  Against Phoenix (Apr. 5), he tallied 13 points, 17 rebounds, eight assists, three steals and three blocks, becoming the first player in franchise history to have least those numbers in a game (per the Elias Sports Bureau).
© 2016, Eldorado2452. All rights reserved.