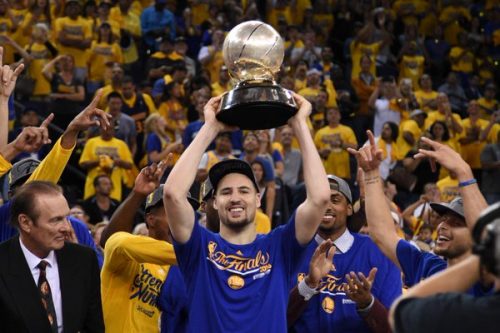 The 2015-16 Golden State Warriors continue to make NBA history. The Warriors were down (3-1) to the Oklahoma City Thunder yet Steph Curry and the Warriors won three straight games in the 2016 Western Conference Finals and they are heeded back to the NBA Finals.
The Warriors made history winning Game 5,6 and 7 in the Western Conference Finals. In Game 7, NBA MVP Steph Curry dropped 36 points including 24 second half points on (7-12) shooting from three point land. Warriors guard Klay Thompson added 21 points on (6-11) shooting from behind the three point line. The Golden State Warriors are just the third team in NBA history to win their Conference Finals after trailing the series (3-1).
The Warriors will host the Cleveland Cavaliers in Game 1 of the 2016 NBA Finals on Thursday June 2nd at 9pm on ABC. Checkout a few highlights from Game 7 of the Western Conference Finals below.
© 2016, Eldorado2452. All rights reserved.