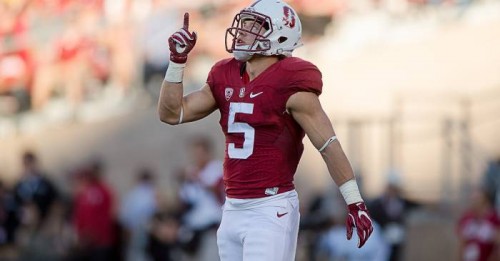 The 2017 NFL draft will have a few potentially great running backs entering the league. Stanford running back Christian McCaffrey has announced today that he is taking his talents pro.Christian McCaffrey, who is the son of former NFL wide receiver Ed McCaffrey took to social media earlier today to make his announcement. McCaffrey played at Stanford for three seasons.
Christian McCaffrey took to gostanford.com to say the following:
After three incredible years at Stanford, I've decided the time is right to enter the NFL Draft.

Since I was 6 years old, I've wanted to play in the NFL. It's been on every list of goals that I've ever written. Now, it's time to take that step. There's nothing more I can put on film.

I love Stanford more than anything. It will be extremely hard to leave. I feel humbled and inspired every day by the peers who surround me. I came to Stanford because I wanted to be challenged more than I ever have in my life. And that desire is shared by everyone who walks on this campus, by people who literally will change the world.

I plan on getting my communication degree in the future. I don't know when, but I will finish. As soon as my career takes shape, I'll figure out a plan. Stanford does a great job of encouraging former players to return and graduate. Many come back and walk the same halls after their football careers are over to earn their degrees. I want to be that example for the next generation.

I've talked to many in and out of the game and received advice from people whose opinions I greatly respect, including Toby Gerhart, who was here for a game this season. I took their feedback and came to a conclusion: I'm ready.

I talked to Coach Shaw about everything. He completely agreed. Really, it just made sense. The opportunity is right in front of me.

Simply put, this is the best time to live out my dream.
After three incredible years at Stanford, I've decided to enter the 2017 NFL draft. #BlessedByTheBest

— Christian McCaffrey (@CMccaffrey5) December 7, 2016
Christian McCaffrey in my opinion is a late first round talent and could be a good addition to a playoff bound team in 2017. Stay tuned to HHS1987. Follow @eldorado2452 on Twitter and Instagram for all your NCAA sports and sports news.
© 2016, Eldorado2452. All rights reserved.