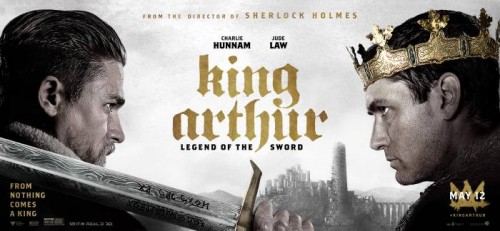 Warner Bros. is gearing up for the upcoming released of their Summer film 'KING ARTHUR: LEGEND OF THE SWORD' and we want you to get a chance to see the film for free. HHS1987's Terrell Thomas (Eldorado) has teamed up with Warner Bros. and Allied Moxy for a special ticket giveaway.
KING ARTHUR (Warner Bros): When young Arthur's father is murdered, Vortigern (Jude Law), Arthur's uncle, seizes the crown. Robbed of his birthright and with no idea who he truly is, Arthur (Charlie Hunnam) comes up the hard way in the back alleys of the city. But once he pulls the sword from the stone, his life is turned upside down, and he is forced to acknowledge his true legacy… whether he likes it or not.
To enter to win a chance to receive 2 FREE passes to see Warner Bros. upcoming film 'KING ARTHUR: LEGEND OF THE SWORD" you must:
1.) Follow @HipHopSince1987 and @Eldorado2452 on Twitter and Instagram

2.) Tweet or Tag @Eldorado2452 in a post on twitter and IG detailing what 3 laws or rules you would make for the good of your kingdom if you were King or Queen for a day.
Winners will be announced via direct message and sent a link to download the tickets. "KING ARTHUR: LEGEND OF THE SWORD" hits the big screen on May 12th. Stay tuned to HHS1987. Follow @eldorado2452 on Twitter and Instagram for all your music, movie and entertainment news.
© 2017, Eldorado2452. All rights reserved.