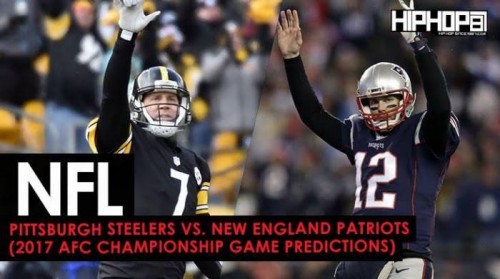 In the final game on NFL Championship Sunday, we have a battle of elite AFC franchises as the Pittsburgh Steelers head to Foxborough to face the New England Patriots.
This will be a good game. There have been several story lines to this game including Steelers wide receiver Antonio Brown streaming the Steelers post game locker room moments on Facebook Live. Both sides have spoken their peace on the matter and now it is time to let their play on the field determine the results.
The Pittsburgh Steelers come into today's on a roll. The Steelers ended the season with a record of (11-5) as one of the hottest teams in the league. The Steelers and Patriots met during week 7 of the 2017 season with the Patriots winning that game (26-17). Steelers quarterback Ben Rothlisberger didn't play in that game due to injury, today he will play.
The New England Patriots overcame the drama of their star quarterback Tom Brady missing four games due to suspension and they finished the season with a record of (14-2). Tom Brady was affective last week in the AFC Divisional round against the Chiefs passing for 287 yards and two touchdown passes and two interceptions. If the Patriots hope to advance today, Brady will need to have a better performance.
Today I expect the Pittsburgh Steelers to come rushing the ball with Le'Veon Bell to open the play action pass plays for Steelers quarterback Ben Rothlisberger and Steelers wide receiver Antonio Brown. Look for Big Ben to pass for over 275 yards today for 2 touchdowns. Steelers running back Le'Veon Bell will rush for over 150 yards and 2 touchdowns. The Steelers offense will look to make a strong statement today. This will be Ben Rothlisberger, Le'Veon Bell and Antonio Brown are all on the field with a chance to send Pittsburgh to the Super Bowl.
Look for the New England Patriots to look to rush the ball most of the game. LeGarrett Blount has had his best season in the NFL this year finishing the year with 15 rushing touchdowns and 1161 yards on the ground. Tom Brady will pass for over 250 yards and 2 touchdowns but I may not be enough. I like the road team in this Championship matchup! Stay tuned to HHS1987. Follow @eldorado2452 on Twitter and Instagram for all your sports news.
Steelers 31  Patriots 28
© 2017, Eldorado2452. All rights reserved.