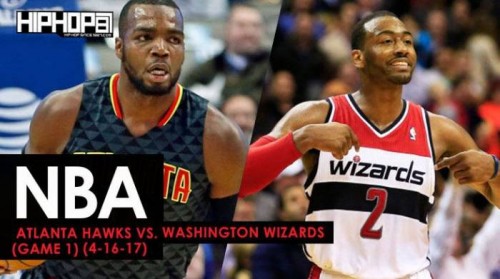 The 2017 NBA playoffs are underway and after Game 1 between the Washington Wizards and the Atlanta Hawks, the Hawks have a few concerns that need to be addressed.
The Washington Wizards defeated the Atlanta Hawks (114-107) on Sunday afternoon to take a (1-0) lead in the first round of the Eastern conference playoffs. Wizards all-star John Wall led the way for the Wizards scoring 32 points with 14 assist. Wizards sharpshooter Bradley Beal was the Wizards second leading scorer scoring 22 points on (9-21) shooting from the field. The possible player of the game to me was Wizards big man Markieff Morris. Morris finished the game with 21 points on (8-19) with 7 rebounds. Morris wasn't just a scoring force, he also set the tone physically for the Wizards on offense and defense.
For the Atlanta Hawks, it appears they just didn't match the intensity of the Wizards on Sunday. The leading scorer for the Hawks was point guard Dennis Schroder who scored dropped 25 points with 9 assist. Hawks all-star Paul Millsap scored 19 points on (5-8) shooting from the field. Hawks rookie Taurean Prince performed well in his first postseason appearance. Prince finished with 14 points and 6 rebounds. Dwight Howard finished with 7 points and 14 rebounds.
Game 1 was largely dominated by the Wizards just based off of their energy. If the Hawks want to tie the series up, they will need to approve in that area. Game 2 of the Atlanta Hawks vs. Washington Wizards series tips off on Wednesday (4/19) at 7pm. Stay tuned to HHS1987 for more NBA news. Follow @eldorado2452 on Twitter and Instagram for all your Atlanta Hawks, NBA and sports news.
Follow On Twitter/Instagram:
@ATLHawks
@WashWizards
@Eldorado2452
@HipHopSince1987
© 2017, Eldorado2452. All rights reserved.