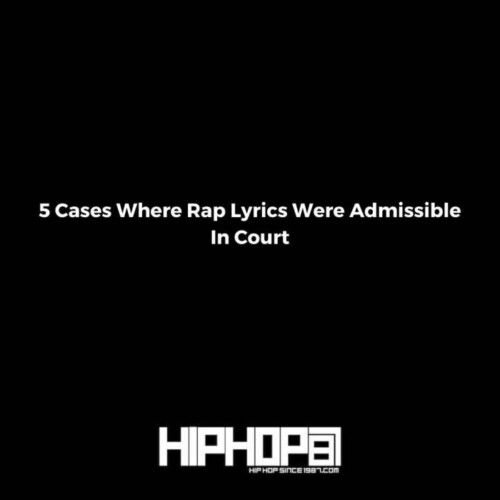 Since its creation, rap music has been a vocal channel for many creatives to tell stories, spit metaphors, drop clever punchlines, and showcase wordplay — but no one ever knew that rap lyrics would at some point be admissible in the court of law as evidence against said artists. Many have still been uninformed on the matter, at that. Active hip-hop news followers may be aware that prominent artists such as Jay-Z, Meek Mill, Killer Mike, Fat Joe and others have vocalized that they are pushing for rap lyrics to be inadmissible in the court of law. On Tuesday, May 17, New York's state senate actually approved that bill. For hip-hop fans whom were unaware of moments where artists were held accountable for lyrics in court, check out 5 cases where rap lyrics were admissible or brought up in court below:
Young Thug is one of Atlanta's biggest rap stars to-date, and has been buzzing around the media due to law enforcement recently raiding and taking him from his home on May 9. Him, Gunna, and 26 others all face charges of conspiring to violate the "Racketeer Influenced and Corrupt Organizations" (RICO). Prosecutors are using lyrics in Young Thug's hit single "Just How It Is" — claiming several lyrics in the song are evidence against his current charges.
Widely known for his affiliation with the Nine Trey Gangsta Bloods, 6ix9ine rose to fame quickly with his hard-hitting racy tracks. Shortly after his rise to fame, he was arrested and charged with multiple crimes, such as "racketeering, carrying a firearm, assault with a dangerous weapon, and conspiracy murder charges." When 6ix9ine decided to cooperate with the prosecutors, a decision that heavily upset the masses, the lyrics from his hit song "GUMMO" were highlighted in trial. Prosecutors claimed that "GUMMO" included several gang-related subliminal threats.
Rising to prominence with his debut project #SantanaWorld (+) released back in 2017, Long Beach, CA artist Tay-K had reached success and ran into a halt in such little time. He was sadly arrested around the same time of the project's release — and in 2019 was sentenced to 55 years prison. Charged with murder and aggravated robbery, Tay-K's rise to fame was very short. Prior to law enforcement taking him into custody, the (former) 19 year old was on the run for about 3 months. Prosecutors used the lyrics from "The Race" and the single's official visual against Tay-K, where he can be seen on his own wanted poster and toting guns.
Late Los Angeles native rapper Drakeo The Ruler was sadly stabbed to death in December 2021, but a couple of years prior to his passing, he was facing charges of first-degree murder, attempted murder, and several counts of conspiracy to commit murder. His 2016 diss track titled "So Cold I Do Em" was used against him as evidence in a specific local murder, and in the diss track Drakeo allegedly calls the supposed victim by name.
Meek Mill is renowned not only for his popular music, but also known for his advocacy for prison reform. He openly put his long journey on the front line to stand up for others caught up in the unjust prison system. At one point in time, a Philadelphia D.A gave Meek Mill a court warning for specific lyrics alluding to the court in his track "The Ride." Having successfully pushed the narrative of prison reform since his release, as mentioned, Meek is alongside Jay-Z and others advocating for lyrics to be inadmissible in the court of law.
Did you enjoy this article? Let us know how you feel about the use of lyrics as evidence.
© 2022, alanna. All rights reserved.