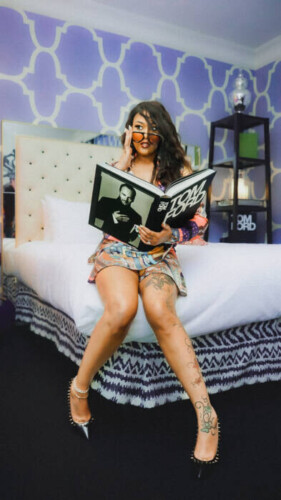 Are you weary of the entertainment industry's constant repetition? Look no farther than Prettyslimm of SlimmsWorld, also known as Prettyslimm, who is the newest smash on your playlist.
Prettyslimm not only offers a unique sound as a female rapper in a male-dominated field, but she is also a model and an actor because why choose between one skill when you can have them all? Not to mention her impeccable dress sense, which will have you wondering why you ever thought going to the grocery store in sweatpants was okay.
With a work ethic that puts the Energizer Bunny to shame, Prettyslimm is taking the entertainment world by storm. And not just any storm, mind you. We're talking about a Category 5 hurricane with a side of sass. Her gusto is unmatched, and her professionalism is top-notch, even when dealing with the most difficult of clients 
Don't rely on our word alone, though. They all concur that Prettyslimm is the real deal after working with some of the largest companies and agencies in the globe. And if her elegant appearance doesn't persuade you, nothing will. She's probably the reason the term "slay queen" was coined, according to our assessment.
So don't look any farther than Prettyslimm if you're seeking for the next big thing in entertainment. She is not only a lively artist, but also a formidable force. She is also redefining what it means to be "real in the reel" in hip hop culture thanks to her variety of talents.
Add her to your playlist, subscribe to her on social media, and get ready to be amazed. Because who needs modest goals when you have Pretty Vybz?
Our website: https://www.slimmsworld.com/
© 2023, Logan. All rights reserved.