Events
»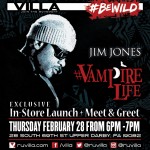 Villa is opening up its new 60th street store this Friday, March 1st. They will kick off the grand opening on Thursday night with a Jim Jones "Vampire Life" clothing line launch and meet
Read More

»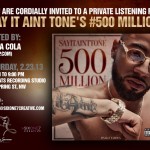 On Saturday February 23,2013 Finally Famous Entertainment, Bossip andSixOne7Creative will be presenting a Private Listening Session for SayItAintTone's "500 Million" Mixtape hosted by Deola Cola from Bossip.com The event will take place in Atlanta, GA at  Hot Beats Studio
Read More

»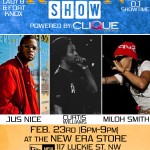 SATURDAY, February 23, 2013 come out and celebrate with Lady B and Fort Knox as they present: Beyond The Talent Reunion Show: Powered by Clique Vodka. FREE DRINKS WILL BE PROVIDED COURTESY OF CLIQUE VODKA. This event will take place
Read More

»
On Thursday February 21,2013 Finally Famous Entertainment, Youheardthatnew.com and SixOne7Creative will be presenting a Private Listening Session for SayItAintTone's "500 Million" Mixtape hosted by LowKey of youheardthatnew.com  The event will take place in New
Read More

»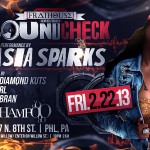 Varsity League presents FRATHOUSE every Friday. Friday February 22nd join us for Sound Check. Performing live is new comer Asia Sparks.  Your dresscode is photoshoot fresh. Audio is provided by Power 99's own
Read More

»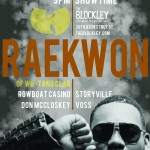 HipHopSince1987, The Blockley & Love My Life Entertainment is giving away 3 pairs of tickets to see Raekwon perform live in concert at The Blockley in Philadelphia. The concert will take place on Thursday,
Read More

»
Varsity League presents FRATHOUSE every Friday. Friday February 15th join us for F*ckin Problem. This is the official ladies night event, where ladies are free until 11pm. Your dresscode is photoshoot fresh. Audio is
Read More

»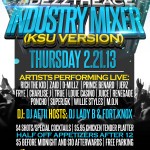 On Thursday February 21, 2013 Schweinbeck & Dezz The Ace present the "Industry Mixer: KSU Version" at the Marietta Billiard Club  (355 Roswell Rd. Marietta, GA) hosted by Fort Knox & DJ Lady B.
Read More

»