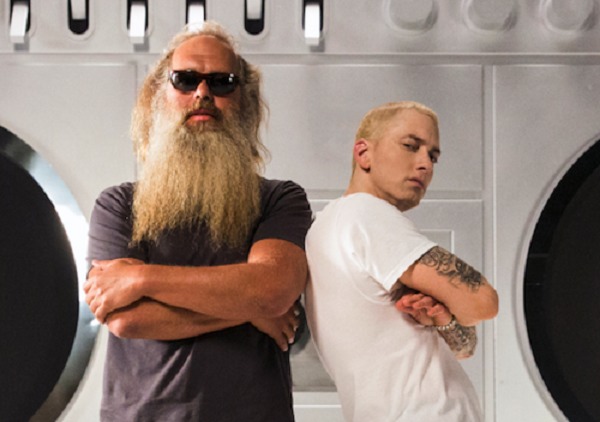 Eminem, whose new album, The Marshall Mathers LP 2, is dropping on November 5th, recently chopped it up with Rolling Stone on the album's creative process, the pressure to live up to the expectations set by its predecessor, and the experience of collaborating with the legendary Rick Rubin.
Slim Shady said he scrapped upwards of a dozen songs in an effort to make MMLP2 it's best, stating, "Calling it The Marshall Mathers LP 2, obviously I knew that there might be certain expectations. I wouldn't want to call it that just for the sake of calling it that. I had to make sure that I had the right songs – and just when you think you got it, you listen and you're like, 'F**k, man! I feel like it needs this or that,' to paint the whole picture."
As for working with Rick Rubin, Em gushed, "Getting with him was like, 'Holy sh*t!' As many genres of music that he is able to f**k with, he's like Yoda. I couldn't do it. You sit me there with a rock group, I don't know the first fucking thing about banging on the drums."
MMLP2 will feature appearances from Rihanna and Kendrick Lamar as well as production by the aforementioned Rubin and DJ Khalil. Check out the full Rolling Stone article here.
© 2013, @BWyche. All rights reserved.