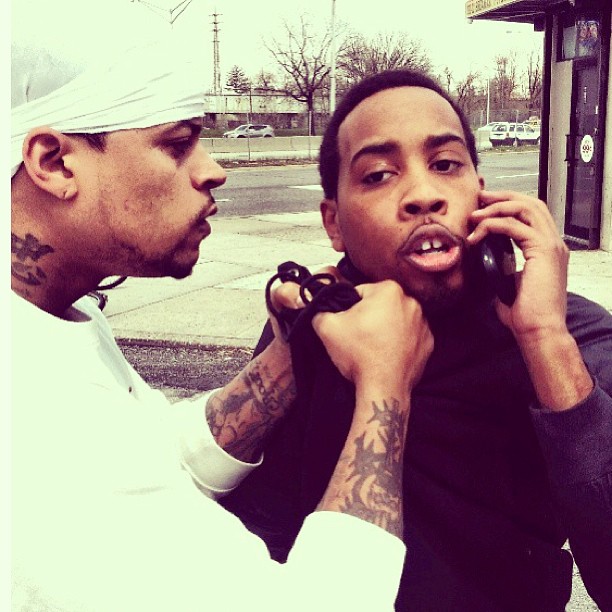 Dipset member Juelz Santana reportedly received an unexpected call from music rival JoJo Simmons after one of his alleged Skull Gang affiliates caught up with Reverend Run's son over the weekend.
According to reports, a Skull Gang associate forced JoJo to speak to Santana and apologize for a minor rift from earlier in the year.
Update: Welp, we now know who JoJo was on the phone with. Word is Hynief Deebo'ed Young Simmons into calling up Juelz and apologizing for the disrespectful diss record the rapper released earlier this year. (Smoking Section)
Rumors of the alleged confrontation started circulating after a photo leaked online.
OH DAMN! I thought being the son of Run of Run DMC would give somebody in Hip-Hop some sort of protection from the streets. But, no. It is being rumored that one of Juelz Santana's goon's took it to JoJo Simmons for their silly beef a few months ago. But, maybe it wasn't so silly. The dude that did it said the following: "Guess who I caught y'all Lil punk a$$ Jo Jo that made the diss track look at his face when he ace! #facts shouldn't pop shit if u not bout that life real n***as don't care who u related too fuck n***a." So much for being related to Russ or Run. (AHH Rumors)
If that wasn't enough, JoJo (Yeah Run's son) calls up his goons to make a blog addressing him getting himmed up below:
Back in January, JoJo took a jab at Juelz on a record called "Holy Water."
The oldest son of Rev. Run, JoJo, or Young Simmons, returns to the interwebs today with a new track aimed directly at the head of Juelz Santana. The track, "Holy Water (Juelz Santana Diss)", finds Mr. Simmonds spitting some barbed bars in which he speaks down on Mr. Santana for slandering his name while giving props to his Uncle, Russell. Man, I don't know what got into Young Simmons, but he definitely brought the heat on this one. (Stupid Dope)
On the track, JoJo responds to a line from Santana's "Soft" song.
"Now how you gonna mention my uncle Russell, then disrespect his nephew," JoJo raps. "The industry forgot you, f*cker, you nothing special/Piss in a test tube, like Jigga, they can't knock the hustle/These n*ggas hate to love you/Simmons will not let you/Compare your money to my uncle, that's just disrespectful/You're not eligible…" ("Holy Water")
via SOHH
© 2013, @BWyche. All rights reserved.