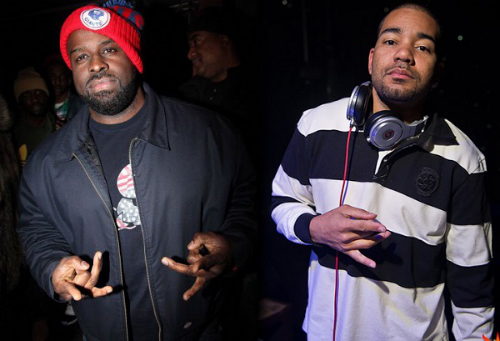 Shortly after Angie Martinez resigned from Hot 97 and joined the Power 105.1 team, the issues between the rival stations once again came to light. Hot 97's Funk Flex and Power 105's DJ Envy have had a pretty public beef since Envy jumped ship from Hot to Power. The two former co-workers have throwing jabs at each other both on social media and on-air countless times.
After the news about Angie heading to Power broke, DJ Envy posted a picture of a light switch with the caption, "Lights Out," implying that it would be such for his competitors. Flex caught wind of the post and reposted it with some harsh words. (Both pics have since been deleted from both accounts.)
Later on in the day, Flex once again took to Instagram this time to call Envy a snitch. Flex posted a portion of a letter that was sent to Ebro and Hot in March of 2013 from Envy's lawyer. Flex captioned the pic, "McGruff the Snitch aka lil power ranger always talking to police and lawyers sending over paperwork!!! #stoptalkingtopolice."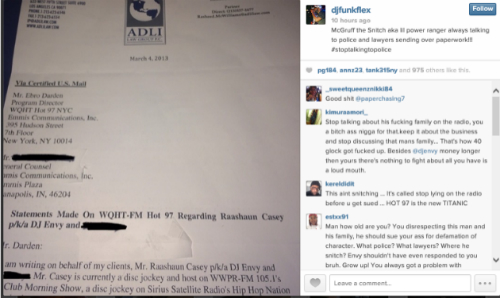 DJ Envy took to his Instagram page to post the entire letter that was sent to Hot 97 showing it was a Cease & Desist in regards to Flex making comments about his wife. Envy wrote:
Now this is a Cease & Desist…. Full letter… No snitching, no police, no statements… this is a letter to a business… Stopping a coward from lying and making up stories… Any TRUE Dad or HUSBAND would do the same… Chess not checkers… @djfunkflexYour a lying, worthless, jealous, pathetic, old man… we all know your going thru a lot.. But lying is not the answer.. You have been in this business to long to go out like a bitch!!! You are 55 years old acting like a child… Be truthful with yourself bruh.. you are killing your legacy… We know your not tough, your not a thug, no fists, no gunplay just a man that likes to DJ… Be that man… We are excited Angie is part of the team and will continue to celebrate that…. I will not respond to your shenanigans again… Lights Out!!!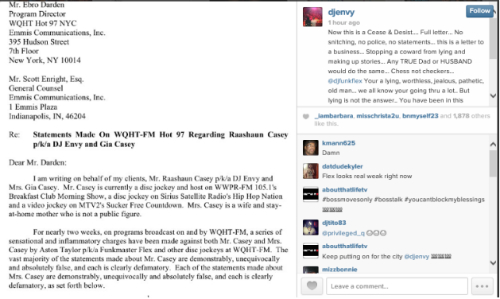 Sidebar: Flex is only 45, not 55.
From the date of the letter, I would make the assumption that the issue stemmed from when Flex put Envy on blast for his affair with Erica Mena. However this is not the first time significant others/former significant others were dragged into the beef between the DJs. In June 2012, Envy posted a Twitpic of a restraining order on Flex that was put in place by the court-system on behalf of Flex's ex-wife following his arrest in February 2011.
Although all of the pictures have since been deleted from both Envy and Flex's page, the issues between them are probably far from other.
© 2014, Julie Aly. All rights reserved.