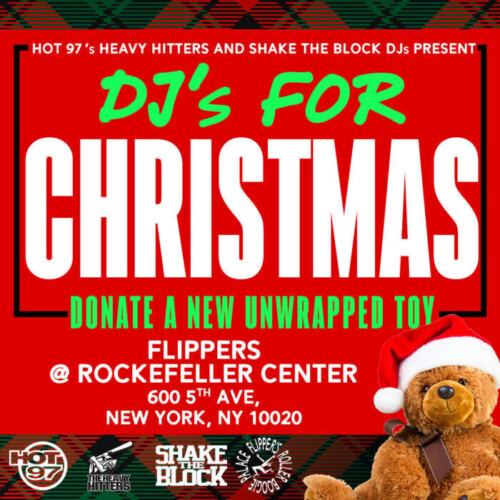 Hot 97's DJ Enuff along with The Heavy Hitter DJ coalition and Hot 97's DJ Bobby Trends Shake The Block DJs presents the "DJs For Christmas Toy Drive" at Flipper's Roller Boogie Palace at the Rink at Rockefeller Center on December 10th from 1-4 pm featuring music by the world-renowned Heavy Hitters and Shake The block DJ coalition.
Hot 97 proudly presents "DJs for Christmas Toy Drive" to collect toys for kids in need this holiday season. Hot 97 DJs will collect supplies from 1-4 pm inside the Flipper's Store, and everyone who donates will qualify for a free ticket to enter the ice skating rink. Flipper's Roller Boogie Palace will make a donation of toys as well.
"We understand the needs of our children and can't wait to raise as many donations as possible with all the fans who listen to Hot 97 faithfully. We are committed to helping our community during a time when inflation is high and parents are struggling to make ends meet." TT Torrez Media Personality and VP of Artist and Label Relations. 
HOT 97 is the world's first all-hip-hop station and has held the dominant position in New York for over twenty years. HOT 97 is best known for its celebrity on-air talent, such as Ebro in the Morning with Laura Stylez & Rosenberg and Funk Flex, and is the world's premier source for Hip-Hop music culture. HOT 97 online and the new HOT 97 app are the destinations for original web series, celebrity content, concerts, and music videos. For more information, please visit www.HOT97.com, and follow us
on facebook.com/HOT97official, twitter.com/HOT97, instagram.com/HOT97, and youtube.com/HOT97.
© 2022, Seth "Digital Crates" Barmash. All rights reserved.