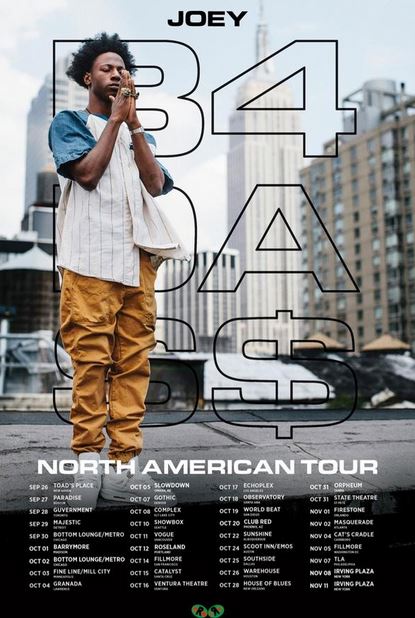 Joey and the gang are jumping back on the road again in honor of his forthcoming LP B4.Da.$$. Check out the official schedule and tour dates below!
Sept. 26th – New Haven (Toad's Place)
Sept. 27th – Boston (Paradise)
Sept. 28th – Toronto (Guvernment)
Sept. 29th – Detroit (Majestic)
Sept. 30th – Chicago (Bottom Lounge/Metro)
Oct. 1st – Madison (Barrymore)
Oct. 2nd – Chicago (Bottom Lounge/Metro)
Oct. 3rd – Minneapolis (Fine Line/Mill City)
Oct. 4th – Lawrence (Granada)
Oct. 5th – Omaha (Slowdown)
Oct. 7th – Denver (Gothic)
Oct. 8th – Salt Lake City (Complex)
Oct. 10th – Seattle (Showbox)
Oct. 11th – Vancouver (Vogue)
Oct. 12th – Portland (Roseland)
Oct. 14th – San Francisco (Fillmore)
Oct. 15th – Santa Cruz (Catalyst)
Oct. 16th – Centura (Ventura Theater)
Oct. 17th – Los Angeles (Echoplex)
Oct. 18th – Santa Ana (Observatory)
Oct. 19th – San Diego (World Beat)
Oct. 20th – Phoenix (Club Red)
Oct. 22nd – Albuquerque (Sunshine)
Oct. 24th – Austin (Scoot Inn/Emos)
Oct. 25th – Dallas (Southside)
Oct. 26th – Houston (Warehouse)
Oct. 28th – New Orleans (House of Blues)
Oct. 31st – Tampa (Orpheum)
Oct. 31st – St Pete (State Theatre)
Nov. 1st – Orlando (Firestone)
Nov. 2nd – Atlanta (Masquerade)
Nov. 4th – Carrboro (Cat's Cradle)
Nov. 5th – Washington, DC (Fillmore)
Nov. 7th – Philadelphia (TLA)
Nov. 8th – New York (Irving Plaza)
Nov. 11th – New York (Irving Plaza)
© 2014, @quinelleholder. All rights reserved.