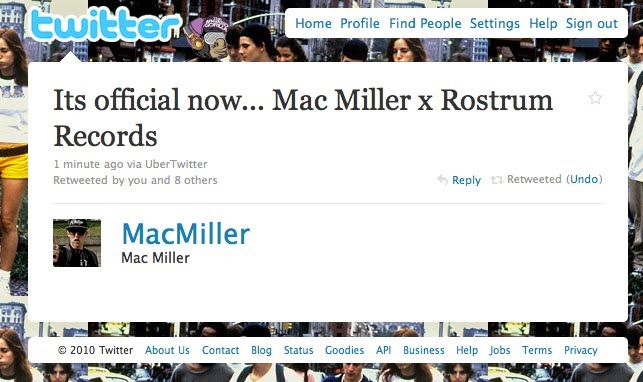 In 2010 Mac Miller (LISTEN: Mac Miller – Erica's House Ft. TreeJay) confirmed with the world what we all had assumed, he was the newest member to join recording artist Wiz Khalifa (LISTEN: Berner & Wiz Khalifa – Chapo) at Rostrum Records. In just a little over 3 years, Miller along with guidance from the indie labels founder Benjy Grinberg and manager Q, the Pittsburgh native has gone on to become one of the most successful rappers of his peer group; his freshman album Blue Slide Park (READ: Mac Miller Has The #1 Album In The Country & He's An Independent Artist) was the first independently distributed debut to take the number one spot on the Billboard albums chart since Tha Dogg Pound's 1995 release Dogg Food.
Just two weeks into 2014 a seasoned, more mature, and financially comfortable Mac Miller has decide not to renew his contract with the indie label who collectively launched his career into over drive.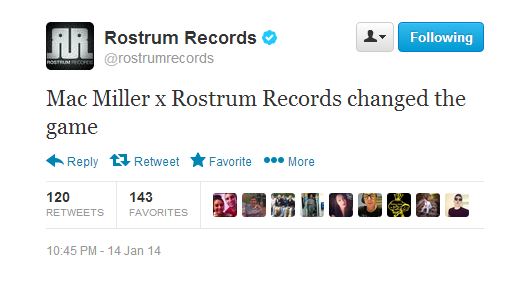 Benjy Grinberg on Mac's departure:
"Mac is an incredible artist and has a bright career ahead of him. We are proud of the historic run that we had together and we will continue to support him in any way that is needed. We wish him nothing but the best in the future."
Miller on leaving the indie label:
"Rostrum is my family. That is forever. No matter what, we will always work together. We moved mountains and I can only see them continuing that tradition. I am grateful for everything I learned and am always here for whatever."
Source: http://www.mtv.com/news/articles/1720469/mac-miller-rostrum-records-end-label-deal.jhtml
© 2014, @quinelleholder. All rights reserved.