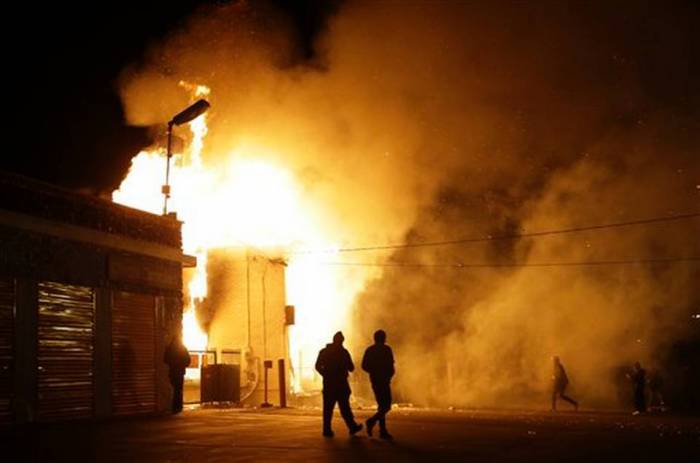 The news came around 9;45pm EST last night and I'm still in shock. Not in shock over the rules of America but more than in this day and age the life of black men still has absolutely no value in the United States Of America. A Missouri grand jury has concluded that there was not enough evidence to indict Officer Darren Wilson, the killer of a Ferguson teenage Michael Brown.
Following the announcement of no criminal charges to Darren Wilson, the streets of Ferguson began to burn and riots broke out across the city. The grand jury was made up of 9 whites and 3 blacks. According to the NYTimes,
As the night went on, the situation grew more intense and chaotic in several locations around the region. Bottles and rocks were thrown at officers, and windows of businesses were smashed. Several police cars were burned; buildings, including a Walgreens, a meat market and a storage facility, were on fire, and looting was reported in several businesses. Gunshots could be heard along the streets of Ferguson, and law enforcement authorities deployed smoke and gas to control the crowds. In St. Louis, protesters swarmed Interstate 44 and blocked all traffic near the neighborhood where another man was shot by police this fall.
Before midnight, St. Louis County police officers reported heavy automatic gunfire in the area where some of the largest protests were taking place. Flights to Lambert-St. Louis International Airport were not permitted to land late Monday as a safety precaution
Stay tuned to HHS1987 for more news regarding this tragedy.
© 2014, Eldorado2452. All rights reserved.