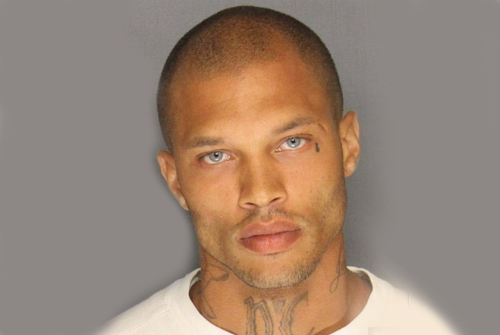 Social media has been a blaze after 30-year-old Jeremy Meeks' mugshot went viral. The felon's "sexy" mugshot was photoshopped on Calvin Klein adds, Dolce & Gabana adds, on memes of Olivia Pope, even replacing "Bring Back Our Girls" on a picture of the First Lady, and much more. Meeks was arrested on a weapons and gang charges in Stockton, California. His mugshot was shared by police and in less than 24 hours received 20,000 likes and almost 6,000 comments. Meeks' rap sheet includes grand theft, pretending to be his brother, resisting arrest, and more. He was a former Crip, but according to his family he "gave his heart to God."
After a little digging, more pictures of Meeks' have been unearthed and it seems that he just knows how to take a good mugshot. The married, father of a 3-year-old is now speaking out about his buzz saying, "I appreciate [the attention] but I just want them to know that this is really not me, I'm not some kingpin." More pics of Jeremy and the viral photos below.
© 2014, Julie Aly. All rights reserved.