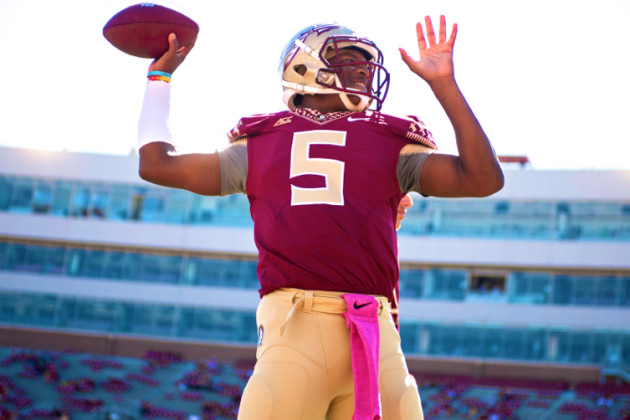 Florida State fans can breathe a sigh of relief for a minute. Star quarterback Jameis Winston came under fire early in the season when he was accused of signing over 1,000 items for a memorabilia dealer in exchange for money. Jameis and FSU denied that Winston did anything wrong.
The Heisman Trophy winner was allowed to play while an investigation was conducted.
The results of the investigation were revealed today and Winston has been cleared of any wrongdoing.
ESPN's Darren Rovell reports there were originally concerns regarding the legitimacy of Winston's signature:
The autograph authentication company that has certified more than 1,000 jerseys, photos, mini helmets and other items as bearing the valid signature of Florida State quarterback Jameis Winston received the items only after an initial authentication firm rejected the job because of concerns about their legitimacy, sources told "Outside the Lines."
Five sources who spoke to "Outside the Lines" on the condition of anonymity said that James Spence Authentication got the items only after competitor PSA/DNA backed out of the February signing with Winston. PSA/DNA did so after being told that it couldn't witness the quarterback signing the items in person, sources said.
The batch of Winston autographs were discovered in the JSA online database in October. James Spence, the company's owner, said in October that he had full confidence that those autographs were authentic, and he reiterated it again this week, through company lawyer Stacy Biancamano.
Rovell continues:
An official with the company flew from New Jersey to Tallahassee to witness the signing and stayed at the hotel where the signing was to take place, sources said. [Florida memorabilia dealer Donnie] Burkhalter and some of the wholesalers of the signing had set up a couple of rooms full of Florida State gear for Winston to sign when he arrived.
But Winston didn't show up, sources said.
Burkhalter denies that much of this happened. He told "Outside the Lines" that he has gotten items signed by Winston but has never compensated him.
The Florida State Seminoles are currently #2 in the College Football Play-Off rankings.
© 2014, Mehka King. All rights reserved.