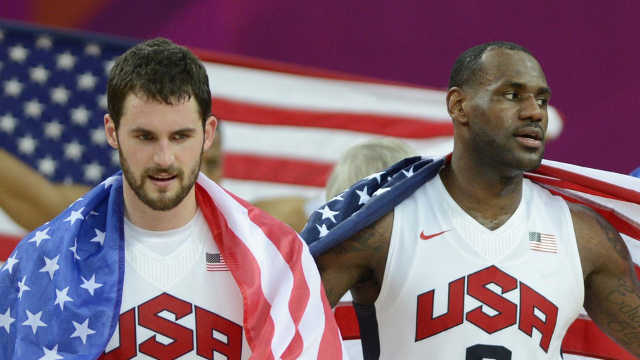 I can't say I didn't see this coming. Reports today have stated that the Cleveland Cavs have trade rookie Andrew Wiggins, a first round pick and forward Anthony Bennett to the Minnesota Timberwolves to forward Kevin Love.
Rumors surfaced last month once Lebron James took his talents back to Cleveland that Lebron and Kevin Love wanted to play together. Kevin Love let Minnesota brass know that he wanted to leave Minnesota and Cleveland was the only team he would sign a long term deal with.  I can see folks hopping on the band wagon now.
Cavs receive: Kevin Love
Timberwolves receive: Andrew Wiggins, Anthony Bennett, Thaddeus Young, $6.3 million trade exception
Sixers receive: Luc Mbah a Moute, Alexey Shved, future first-round pick
According to Yahoo:
Cleveland is making the deal with Minnesota with a firm agreement Love will opt out of his contract in 2015 and re-sign with the Cavaliers on a five-year, $120 million-plus contract extension, league sources said.
The deal cannot be finalized until Aug. 23, because Wiggins, the No. 1 overall pick in the 2014 NBA draft, cannot be traded until one month after the signing of his rookie contract. The two teams have agreed to the deal, but neither would have recourse if the other decided to pull out of the arrangement before it can be formally completed this month. No third team is involved in the Cavaliers-Timberwolves trade agreement.
Part of the Cavaliers' motivation in making the deal for Love was a belief Love would have ended up with the rival Chicago Bulls in a trade and created a significant obstacle in the Eastern Conference, sources said. Cleveland wouldn't have had the salary-cap space to sign Love next summer and could have only obtained him through the trade with Minnesota in a deal now.
Minnesota potentially could turn out to be a good team in a few years with Wiggins and Lavine. Stay tuned to HHS1987 for all your NBA news.
© 2014, Eldorado2452. All rights reserved.