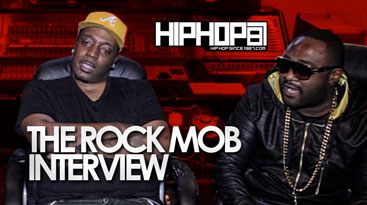 Recently HHS1987 caught up with DC native and Atlanta representers Maserati Black and Str8drop also known as The Rock Mob to discuss their music career, their recent single "This Summer" featuring Young Thug and a lot more.
Coming from the DMV, The Rock Mob bring a unique sound and unique grind to the Atlanta music scene. After hitting the streets with their single "Say Nun" featuring Future and Rocko produced by Sonny Digital a few years back, the Rock Mob showed the hip-hop world that they were ready to put their names in the stars.
The Rock Mob also spoke with us about the struggles of leaving the streets and becoming full time music businessmen, moving from DC to Atlanta and more. After getting their Rock Mob name from their street lifestyle, The Rock Mob realized the music business could open more door than any street keys could and they formed their company.
Having artist such as A1 The supergroup under their wings, the Rock Mob are set to not only release a new project from A1 The Supergroup but they also took a moment to speak with us about their own upcoming project entitled "The Flood".
The interview was conducted by HHS1987's Eldorado. The record was shot by HHS1987's Director AMart.
© 2014, Eldorado2452. All rights reserved.