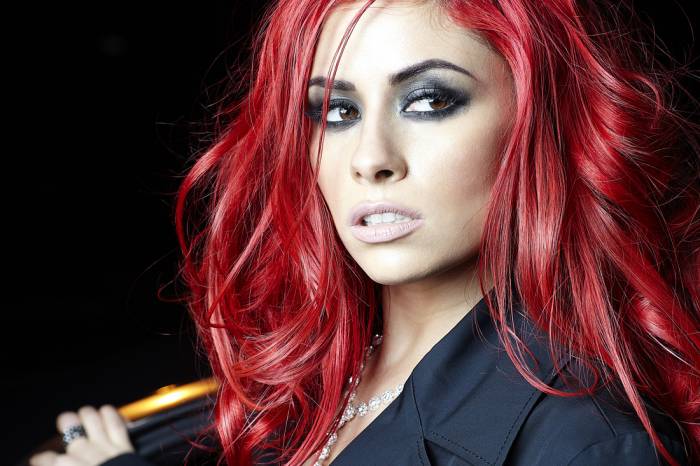 Following the release of her latest iTunes single "Ordinary Girl" in addition to it's heavy rotation on both Hot 97 and Power 105 radio stations, 20 year old singer/songwriter Alus has been steadily gaining the attention of countless labels; but with stunning vocals and a figure to match it doesn't take a genius to figure out why.
This past week, we were fortunate enough to sit down with the rising star and discuss what motivates her, influences, linking up with Russell Simmons and more .
Check out our exclusive interview with the New Jersey native entertainer after the break!
………………………………………………………………………………………………………………………………………………………………………………………..
Sprat (HHS1987): How do you pronounce your name for anyone having problems?

Alus: You say it like "uh-luss" There's been a lot of different pronunciations I've heard for awhile now but that's the correct way to say Alus.

Sprat (HHS1987): What was the main factor that made you decide music is life?

Alus: Back in the day when I was younger, I just wrote songs about anything I went through. I knew that I would end up writing music as a way to express myself when I got older. I think that was a main factor because people around me could relate to stuff I was writing about at the time and it just pushed me to get my music out to a larger audience.

Sprat (HHS1987): First album you ever listened to front to back?

Alus:It's weird that I remember this off the top of my head but Mariah Carey's first self titled album.

Sprat (HHS1987): Top 5 rappers dead or alive?

Alus: Biggie, Nas, Eminem, Jay-Z, Lauryn Hill. Just being a songwriter myself, I can respect anyone that takes their music seriously; especially in songwriting because music is truly an art to me. All the above changed the way people view or listen to music with their talents.

Sprat (HHS1987): What's currently on your playlist?

Alus: I can't get enough of Chris Browns 'X Album'.

Sprat (HHS1987): We remember you when you had your gorgeous brown hair. Now you have some stunning red hair.. Whats the deal?

Alus: The color red describes me. It has many characteristics. It can be bold, passionate, deep, sensual, sexy, provocative, jealous, and even angry. Describing my personality, I think I have many sides to me like the color red.

Sprat (HHS1987): We see Russel Simmons and Steve Rifkinds All Def Digital pushing you a lot lately.. Something going on?

Alus: I released my single 'Ordinary Girl' this summer and it just got a great response thanks to my fans and team. We ended up catching the attention of All Def Digital and they just love the music I bring to the table. We just released Ordinary Girl on iTunes with them so make sure to get that!

Sprat (HHS1987): Will we be seeing you and Russel Simmons rolling around together anytime soon?

Alus: I guess you'll have to see!

Sprat (HHS1987): You had a pretty big hit in 'Relapse' and then hit the world with 'Ordinary Girl' which has received a massive response so far. How is life going for you?

Alus:I just keep working in the studio. When you love what you do, you don't stop doing it. So it's exciting to me when I release a song and people react to it because that just means I'm touching people and definitely doing something right.

Sprat (HHS1987): Hot 97 and 105.1….. How did you manage that?!

Alus: My team and I are just always out there and I have luckily been fortunate enough to be introduced to some great people. The DJs over at Hot 97 and 105.1 vibe out to my music and have just been rocking with my entire movement…Its a blessing. They've been playing it a lot so shout out to Power 105 and Hot 97 for showing that love!

Sprat (HHS1987): After an artist releases a piece of work these days its not long before the fans begin asking for new music already (Maybe because the music doesn't last as long). We haven't seen that yet with your cult following of fans yet…actually we see more and more people gradually catching on. What's your opinion on that?

Alus: I love that people are joining the movement and becoming a part of the Alus family. I just keep making music for them because I know when you're hungry you wanna be fed. So I'll be feeding the army.

Sprat (HHS1987): We will be at A3C this year… Can we expect you? Alus: Possibly 😉
© 2014, SpratFool. All rights reserved.