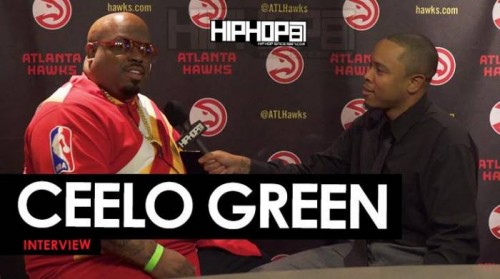 On Saturday December 26th, music icon Ceelo Green was an honorary guest of the Atlanta Hawks and before he rocked Philips Arena with a special halftime and post game performance as the Hawks faced Carmelo Anthony and the New York Knicks, HHS1987's Terrell Thomas sat down with Ceelo to catch up and see just what he had going on.
Multi-Platinum Recording Artist, TV Personality and Entrepreneur Ceelo spoke on his his past year and releasing his latest 15 track album 'Heart Blanche'. Highlighted by his single Robin Williams, Ceelo spoke on his passion for music and why it was important to speak on the life and energy Robin Williams gave to the world.
Looking to take a new role in music, Ceelo also spoke on his new role with Sony and his new imprint "Mothership Entertainment Group". Recently finalizing a new label joint venture with Sony Music Entertainment to help discover, sign and develop top R&B / Soul talent for the global music group. As a part of this new deal, CeeLo will open recording studios in both Atlanta and Las Vegas to work directly with the new artists that he signs to Mothership Entertainment Group, a name he chose to pay homage to his late mother and grandmother. Fully funded by Sony Music, this new joint venture will be a creative A&R hub for Sony Music. Together, CeeLo and Sony Music will seek out numerous artists each year with the idea of CeeLo working closely with the talent to create real, soulful music. For additional support, Mothership will also be able to sign any of these artists to any of the labels within the Sony Music family.
Known for his soulful tunes, wild and funky outfits and entertaining performance, Ceelo gave us a little insight on what the Atlanta Hawks crowd could expect and his upcoming "Love Train" tour that is set to kickoff Spring 2016. Before wrapping up, Ceelo also spoke on a possible Goodie Mob tour in the near future. After dropping a new project 'Age Against The Machine' in 2013, Goodie Mob in the circuit once but could be on the road sooner than we think.
The interview was conducted by HHS1987's Terrell Thomas (Eldorado) and shot by HHS1987's Brian Da Director.
Follow On Twitter/Instagram:
@CeeloGreen
@AtlHawks
@Eldorado2452
@HipHopSince1987
@BrianDaDirector
© 2015, Eldorado2452. All rights reserved.