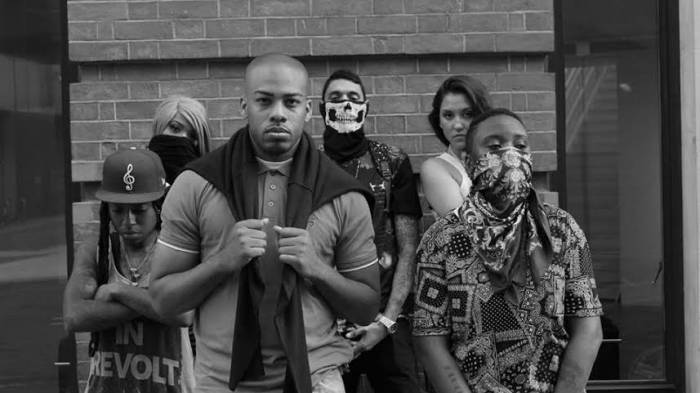 Last week, we had the wonderful opportunity of interviewing popular US/UK hip-hop collective Famsquad and discussed everything from their recent Sway In The Morning experience to their organically established cult like following.
Check out our exclusive interview with the "Vegas Light" recording artists after the jump and be on the lookout for their new Sport Coat Music project dropping soon!
HHS1987: So let's start from the beginning. You guys started back in 2006. What happened between then and your first album Rebirth, which was released in 2008, that let y'll know we can really make music for a living?

Famsquad: In 2006 we did our first show and made 4k from selling tickets and the club was packed. We saw we connected with fans and knew we could build on that.

HHS1987: What's the difference between your UK fan base as oppose to your U.S. supporters?

Famsquad: I feel we are received very well in the U.S., "Vegas Lights" got good radio play for 5 months on Sirius XM and we have a cult following throughout the states. We have an affinity for British and Mod culture and their rich musical history so it's a natural extension of our American foundation.

HHS1987: I hear lyricism is an important element in your music. Why do you feel like that's important to maintain in the turn-up era of hip-hop music?

Famsquad: Simply put, Camp Lo and Nas will tour forever while fad rappers won't make it until next year. Hip-Hop needs a balance of both and thats what we bring.

HHS1987: How was rapping live on Sway In The Morning and what other radio platforms would you like to be featured on in the near future?

Famsquad: Sway was a great experience because we always looked up to him and Heather B growing up. Sway's the Johnny Carson of Hip-Hop and few people in Pop Culture have the level of respect he's earned. Heather B's one of the best female emcees period.

HHS1987: When can we expect L.O.M. 2?

Famsquad: We don't have a release date as of yet but their is new music on the way. However, we do want to keep listeners excited and engaged so this Spring we'll be releasing a completely different body of word called "Sport Coat Music". It's a world all it own and sonically ambitious.

HHS1987: Dream collaborations?

Famsquad: Lenny Kravitz, Prince, Raheem Devaugn, Bilal, Tech Nine, Travis Scott.

HHS1987: Goals for 2015?

Famsquad: 2015 goals are to outdo last year and work harder. Success is key and it can drop in your lap anytime. When it comes you have to run with it and constantly improve.

HHS1987: With all the racial tension following the deaths of Mike Brown, Eric Varner and Trayvon Martin, what is your thoughts on the role hip-hop music should be playing in evoking change?

HHS1987: These issues are bigger than Hip-Hop. Artists are playing big role from J.Cole marching to John Legend feeding protesters to Jay-Z meeting with politicians. We have a voice. People from different races and creeds understand that police brutality is unacceptable so I think most people will come together on this issue.

HHS1987: Did Jahlil Beats telling his story about the first time he met Jay Z and now he's signed to Roc Nation inspire y'll?

Famsquad: Any story from a black man is inspiring shouts to Jahlil working hard and getting where he knew he needed to be.

HHS1987: Anything you want to leave the readers with?

Famsquad: Sport Coat Music is coming this spring. In the meantime we'll be releasing new music to keep fans excited and to showcase our musical progression. Shouts to our extended family Leroy Green and Thoth Set .
Special thanks to Kaitlin B. for making this possible!
© 2015, @quinelleholder. All rights reserved.