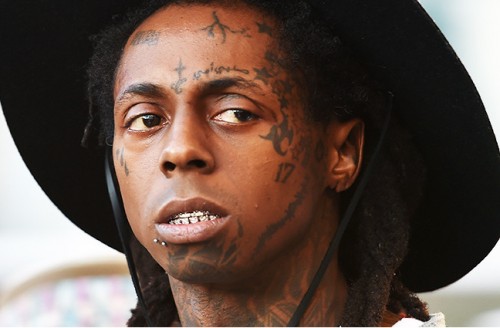 I think fans sometimes get in the habit of forgetting that these celebrities that we praise, joke, & blast when things occur in their real life, are REAL PEOPLE. Real people who contemplate & reflect on their lives just as you & I would if we were going through something, Yes, they have status & they have money, but they also have feelings too.
In this year alone, Lil Wayne has been through hell & back. The trials began with trouble concerning his label, Cash Money Records, & his relationship with Baby. In the midst of that turmoil, his tour bus was shot up, & not too shortly after, his home in Miami was shot at as well.
Today may just put the icing on the cake for all that's going on in the life of Lil Tunechi. Tune's Miami Beach home was raided earlier today by police due to a $2 Million judgement against him & in favor of The Signature Group, who claim Wayne hadn't finished paying off a 3-year contract for leasing their private jets. Priceless art pieces & plagues were seized by authorities to satisfy his debts, & he's said to still be in the hole for $200,000 in lawyer fees.
Lil Wayne was in L.A. during the seize, but took to Twitter to channel his frustrations on the unfortunate happening:
"It's days like 2day dat make me ? everything,even myself But I guess dis is da thx I get. Sum times it's tough 2b tough & even tougher 2b me. I ain't shit but my mother, my kids & their mothers r EVERYTHING & dat I know, so on the days ? everything, I use dat as the answer 2 it all.
A writer from lifeistremendez.com translated Tune's message a little more clear for us:
Situations like this make me question everything, even myself – despite the fact that I have a successful career. But I guess this is what happens when you have a career in the public eye. It's not always easy to have thick skin, and it's even harder to be Lil Wayne. I know I'm not the greatest guy, but I do know that my mother, my children and their mothers (Toya Wright, Sarah ViVan, Nivea and Lauren London) are everything. This is a fact. So on the days I'm really questioning life and what I'm doing, I just reflect on the fact that I have an amazing family, and that is all I need.
Hope everything turns out for the best Tune. That good karmic energy is coming soon!
© 2015, Niyah Nel. All rights reserved.