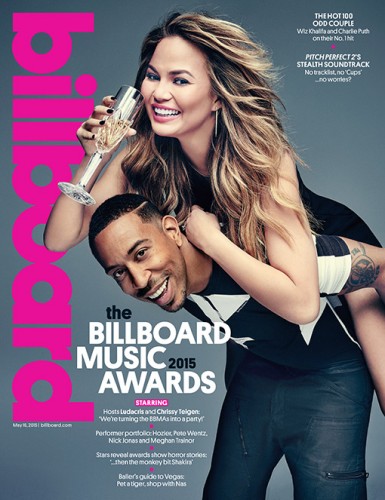 Ludacris is joined by Chrissy Teigen on the cover of Billboard magazine. The duo will be hosting this year's annual Billboard Music Awards. During the featured story, Luda and Chrissy speak on Beyonce, what they drink before award shows, and how long it takes them to get ready before offering advice to Meghan Trainor
Chrissy spoke on Beyonce saying
She's the only person on the planet who I just completely shut down around. John does it as kind of a joke now. He'll be like, 'Can you come say hi?' I think he likes to see me completely weak.
Fast 7 star Ludacris admits that he enjoys "white wine, red wine, Cognac, tequila, vodka, beer," before heading to an award show.
When talking about how long it takes them to get ready she admits, "Tt's a good solid two hours and 30 minutes. And that doesn't include all the fittings beforehand." While Luda states that it takes him only five minutes.
The 2015 Billboard Music Awards will be held on Sunday, May 17 at 8p.m. on ABC. Read more at Billboard.
© 2015, Julie Aly. All rights reserved.