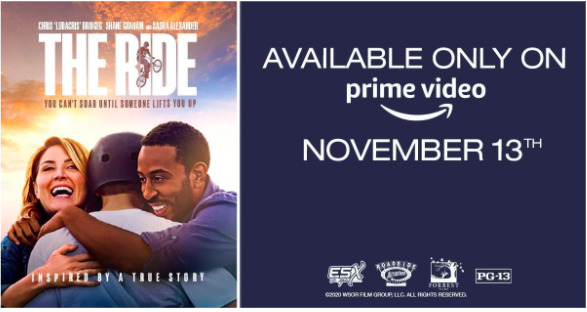 Forrest Films, an American film production, financing and distribution company, announces the release of Alex Ranarivelo's feature film The Ride for digital streaming on Amazon Prime Video. The film was produced by Forrest Lucas, founder of Lucas Oil Products and Forrest Films, and will be distributed by Roadside Attractions. The inspirational true story, which features an all-star cast led by Chris 'Ludacris' Bridges, Sasha Alexander and Shane Graham, recounts the life of extreme sports legend John Buultjens. The Ride is now available on the Amazon platform beginning Friday, November 13, 2020.
"We love a great story that inspires and promotes uplifting messages," said Forrest Lucas. "With Chris Bridges delivering a performance that can't be missed, we know the Roadside Attractions team is especially adept at reaching and connecting with the wide-ranging digital streaming audience The Ride caters to."
Alex Ranarivelo's The Ride follows John McCord, a gifted young athlete who triumphs over a troubled upbringing. After a violent, racially-charged incident lands him behind bars and in juvenile detention, John (Shane Graham) is placed with an unlikely set of foster parents, Eldridge (Chris 'Ludacris' Bridges) and Marianna Buultjens (Sasha Alexander), an interracial couple who want to provide the troubled young man with a second chance at a happy life. Having to overcome the challenges of John's white supremacist upbringing, Eldridge uses his new foster son's fascination with BMX to begin forging a relationship with John. Brought together through the triumphs and tribulations of extreme sports, the new family grows in mutual respect and love and together ride toward BMX glory.
"We are thrilled The Ride will be available to watch this November, just in time for families to enjoy during the holiday season," stated Howard Cohen and Eric d'Arbeloff, Roadside Attractions' Co-Presidents. "When we saw the film, this true story was told with incredible emotion, heart and compassion found in one of the most surprising places – the world of extreme sports."
The Ride was directed by Alex Ranarivelo and written by J.R. Reher and Jean Marie Sobeck, Hadeel Reda and Alex Ranarivelo. The film has been rated PG-13 by MPAA. Watch The Ride exclusively on Amazon Prime Video starting November 13, 2020.
Forrest Films launched in 2018 as a vertically integrated entertainment company that develops, produces, finances and releases feature films that tell inspiring and purpose driven stories for global audiences. Forrest Films' slate includes (in addition to The Ride); Bennett's War; sports-themed Lady Driver; the romantic drama Roped; inspirational action/drama American Fighter; the thriller The Stand at Paxton County; and the comedy Wheels of Fortune. Lady Driver, Roped, The Stand at Paxton County, Bennett's War, and Wheels of Fortune are all available via digital stream on Netflix.
Forrest Films funds and orchestrates theatrical release campaigns tailored and scoped individually for each film, fully supported with the marketing, advertising and publicity needed to open the film. The company's initiatives are supported by a media fund, backed by Forrest Lucas, founder and owner of Lucas Oil Products, Inc., Lucas Oil Production Studios, MAVTV, Lucas Oil Speedway, and the naming rights to the Indianapolis Colts' Stadium, "Lucas Oil Stadium", etc., which allows the company to not only finance the production of feature films, but also provide P&A funding for theatrical releases.
Facebook: @ForrestFilmsOfficial
Instagram: @ForrestFilmsOfficial
Twitter: @ForrestFilms_
Since its founding in 2003, Roadside Attractions' films have grossed over $300M and garnered 21 Academy Award® nominations. Roadside Attractions recent releases include the Oscar® winning Judy starring Renee Zellweger and the #1 independent film of summer, 2019, The Peanut Butter Falcon. Their faith-based I Can Only Imagine was the #1 independent film of 2018 with a gross of $83.5M. The company has released such critical and commercial hits as The Glorias, Manchester By The Sea, Ben Is Back, Beatriz At Dinner, Whitney, Stronger, Love & Friendship, Hello My Name Is Doris, Mr. Holmes, Love & Mercy, A Most Wanted Man, Dear White People, The Skeleton Twins, All Is Lost, Mud, Winter's Bone, The Cove, Arbitrage, Margin Call, and Super-Size Me
www.RoadsideAttractions.com
Facebook: @RoadsideAttractionsFilms
Instagram: @RoadsideAttractionsFilms
Twitter: @RoadsideTweets
ESX Entertainment is a vertically integrated entertainment company, and a subsidiary or ESX, Inc. Founded by world champion race car driver and actor Ali Afshar in 2004 and housed on the Warner Bros. studio lot since 2015. ESX develops, produces, finances and releases films and series that tell inspiring and purpose driven stories for global audiences. ESX has produced 16 films and 2 tv series. For more information visit esxproductions.com
Instagram: @ESXentertainment
Facebook: @ESXentertainment
Twitter: @ESXentertain
© 2020, Seth Barmash. All rights reserved.