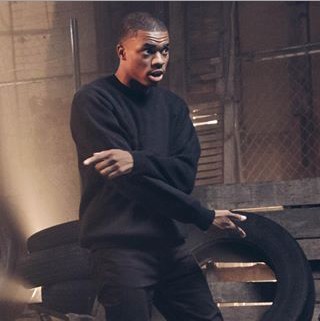 A few days ago, word got out that in an interview with TIME Magazine, Vince Staples said that 90's Hip-Hop music is overrated. Shortly after that quote was released, the backlash began. Fans, curators, & even emcees from "The Golden Age" period all had a tweet or 2 for Staples & his remarks.
Here's what Staples said in the interview that got everyone's feathers all ruffled up:
I was born in 1993 in Long Beach, California and I don't remember any of it because I was a baby, but I'm pretty sure it was nice. …90s get a lot of credit. I don't really know why. Biggie and Tupac, those are the staples of the 90s. That's why they get the golden era credit. There's not a 50 Cent in the 90s. They don't even have a Kanye. Jay Z's biggest song, his only number one happened a couple years ago..
After Twitter went into an uproar in his mentions, he responded with this:
Niggas telling me I wouldn't exist without 90s hip hop as if I don't have a mother or father," he says. "Speaking of such my mother apologized for having me too late to experience Keith Murray and shes sorry for letting you all down. In 1999 I was 7 years old and toy story 2 had just dropped you niggas really think I was worried about hip hop?
Noreaga had this to say back to the kid:
Just don't call something overrated if u ain't live in it to appreciate its value in the 1st place that's all!!!
Tyler, The Creator joined into the conversation as well, but he was actually a bit on Staples side:
I BE THINKING THE SAME SHIT.. LIKE THOSE 90S RAP ALBUMS DO NOTHING FOR ME.
Staples & N.O.R.E. went back and forth about the "tweeting people we don't know" and "twitter shit being corny", but all in all, I think the point on behalf of 90's Hip-Hop was made. Staples allowed his comments to become public domain. At that point, no one is safe.
In today's lesson, class, take this away if you take nothing else. If you don't know what you're speaking on, it's probably best to hush your mouth.. That is all.
© 2015, Niyah Nel. All rights reserved.