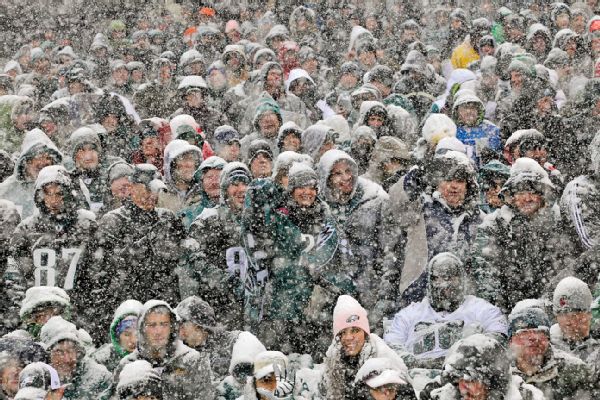 Ain't this something. The start of the 2015 NFL season is right around the corner and it appears not everyone is looking forward to Chip Kelly, the Philadelphia Eagles and fans coming to a town near you. Recently, Sports Illustrated named Philadelphia Eagles fans the most hated fans in the NFL proving there is no love for the city of Brotherly Love.
According to Sports Illustrated, 
It all started in December 1968, when those disenchanted fans of the Eagles sitting at Franklin Field decided that the best way to unleash their invective was to hurl snowballs at Frank Olivo, a 19-year-old man who stepped onto the field in a Santa Claus suit. The fans were disgusted because the then-lame franchise was winning too much at the end of the season—winning their way right out of the derby for USC's O.J. Simpson, who went to Buffalo as the first pick in the 1969 draft. Philadelphia took defensive back Leroy Keyes (who?) with the third pick, leaving Joe Greene on the board for the Steelers with the next selection.

In 1998, the team installed a jail in the bowels of Veterans Stadium and hired a judge, the delightfully-named Seamus McCaffery, to preside over the rowdiest of an infamous bunch. And in 1999, several of Cowboys receiver Michael Irvin's teammates were understandably distressed when they thought Eagles fans were booing the future Hall-of-Famer as he lay on the field with the neck injury that ended his career. In truth, the fans were booing Deion Sanders, but the fact that they cheered as Irvin lay on the field motionless tells you all you need to know. Every fanbase is unfortunately defined by the minority who do stupid stuff like this, but it seems that Eagles fans are more defined than any other group. 
I can't say I'm surprised at the hate Philly fans are receiving but I wonder how bad it will get when the Eagles bring a title to Broad Street. Stay tuned to HHS1987 for all your sports news.
© 2015, Eldorado2452. All rights reserved.