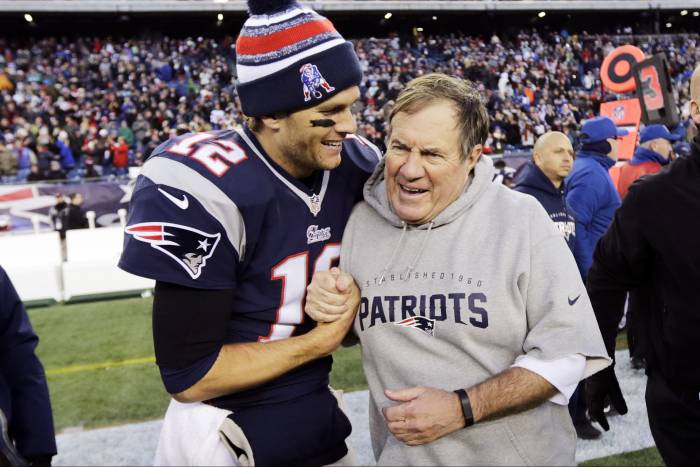 Now I'm not sure if we can really consider this to be "cheating" however ESPN's  Chris Mortensen is reporting that in fact 11 of the 12 games ball the New England Patriots used in the 2015 AFC Championship game against the Indianapolis Colts were in fact two pounds under NFL regulations.
According to ESPN, 
The New England Patriots had 11 of their 12 allotted game footballs under-inflated by 2 pounds of air (PSI) as required by NFL regulations, according to league sources either involved or familiar with the investigation of Sunday's AFC championship game when the Patriots beat the Colts 45-7 to advance to their sixth Super Bowl.

"We are not commenting at this time," said Greg Aiello, the NFL's senior vice president of communications.

Troy Vincent, the league's senior executive vice president of football operations, said earlier Tuesday that the NFL expected to wrap up its investigation in "two or three days."

Yet to be determined is what, if any, penalties may be imposed upon Patriots. One source described the league as "disappointed … angry … distraught," after spending considerable time on the findings earlier Tuesday.

Part of the investigation that still needs further vetting is how the 11 footballs became under-inflated. The game balls provided to each team for preparation were required to be inspected and approved by referee Walt Anderson two hours and 15 minutes before kickoff before they were returned to each team. No alteration of footballs is allowed once they are approved, under league rules and regulations.

The balls are required be inflated between 12.5 and 13.5 pounds per square inch and weigh between 14 and 15 ounces.

"We have been in complete cooperation with the league and will continue to do so," said Patriots spokesman Stacey James.
Now don't get me wrong, the Pats beat the Colts (45-7) so I'm not saying that the Pats needed this advantage to win the game but it certainly was an advantage. The NFL has yet to make a statement so stay tuned to HHS1987 for more information.
© 2015, Eldorado2452. All rights reserved.