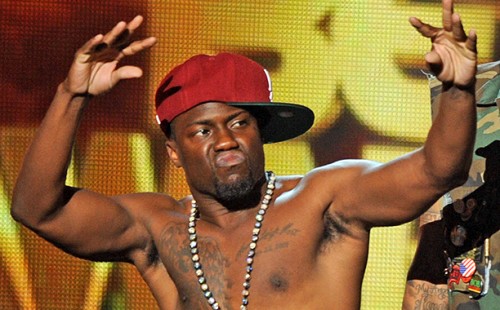 Chocolate Droppa – Kevin Hart's alter ego – is back with a vengeance. Recently he called out some big name rappers (Jay Z, Drake & Future) in his debut freestyle with Motown. "You gotta go straight for the head on a snake before you go for the body where the babies at. When you cut off the head, then the babies ain't gonna have no place to go. My thing is, cut off the head so people don't have no mama," said Droppa. With that statement, Droppa is insinuating that Jay, Drake and Future, are these other rappers' "mama," and he refuses to follow suit.
"I don't need no mama."
That savage mentality is what's evident on his new project, "What Now? The Mixtape." which also compliments Hart's "What Now?" stand-up comedy film. In an interview with Baller Alert, Droppa laid a few things out.
On his creative process.
"When it comes to being creative, nine times out of ten, it's me going some place where I can get in my own head so that would either be Utah or Bismarck, North Dakota. Those are my stomping grounds. I've got real big cabins out there where I get in my zone. My process was going out there and having mindset of taking back what's mine."
On transitioning from Battle Rap to making music.
"It ain't really a transition." If you look at my battles, my battles could've been singles. You see what I'm saying? Making a song ain't nothing to me. That's second nature. When I get in there, I get in there and when it's time to get out, I get out. So, when you got that knowledge about a song, then you good. These other rappers that just wanna battle, they don't know how to make songs. I can put a song together whenever I want."
On Migos and T.I. collaboration, "Baller Alert."
"You're looking at two real hot up and coming cats, man. When I look at TI, I'm like "He got a bright future ahead of him. This guy got something. There's a lot of potential there. I need to work with this cat. Migos, he got that energy. I remember myself when I was at his point and T.I.'s point. I can put myself in both they shoes when I was there. Now that I sit on the throne where I'm at, I said Let me go back and show some love."
On meeting Migos.
"Yeah, I met him. There's two of'em?"
No, there's three.
"Oh, well I met the middle one. Which one talks fast?"
Maaan, Kevin Hart is truly a clown. For more of Chocolate Droppa, check this video out.
© 2016, MariaMyraine. All rights reserved.